Refreshing A Classic Datsun 240Z continued..
Picture Page #2:
---
Below We pulled the engine out, tore it down to the short block, then cleaned everthing back up and reassembled it. Everything within the engine was well within Factory Spec.'s - so all that was required was an engine assembly gasket kit. I did put a new water pump on none the less. (easier to at this point and not a lot of money).

Below:, I get my favoriate girls involved in the project. That's Morgan our Standard Poodle (the girl that loves me the most;-) - and Mary Alice our five year old daughter. Mary Alice loves all the Z Cars - but has settled on the BRE Z as the one she wants. (much to the dismay of my 26 year old son;-)... I must say that the girls sure are cute and fun to have around, but I didn't get much work out of either one of them....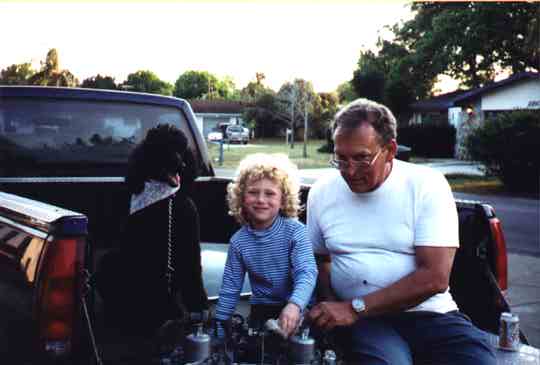 Below: After Mary Alice got the carb.'s done - we put the engine back in the car.

Next Step Below - we replaced the factory black out treatment, on the radiator core support - this was done on the light colored cars to keep the white paint from showing through the grill up front..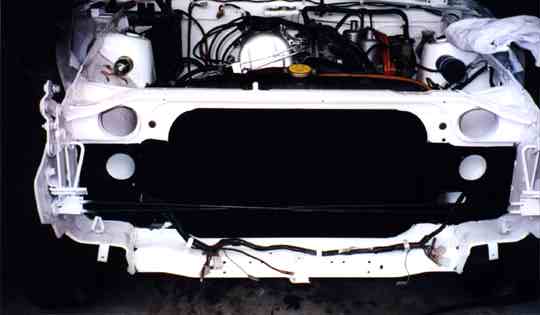 You Might Notice the fenders are off the car in these pictures. I always put them back on last.. to avoid scratches and dents while working in the engine compartment.
Below are the fenders as they came off the car.... they had only the slightest bit of surface rust starting to form on them. Most of it washed off with some soap and water.
Below I cleaned, primed and painted the inside of the fenders with a 3M Rustproofing Paint. Just brushed it on.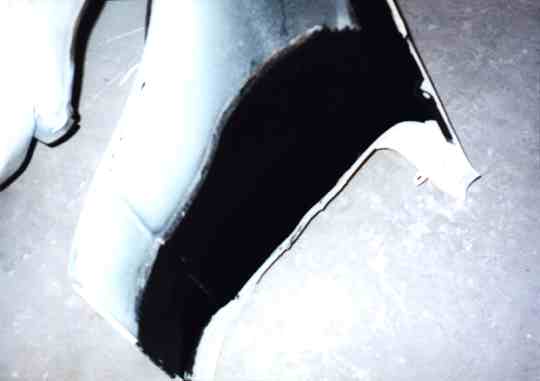 ---
Click Here To See More Pictures
Click Here
To Return To The Main Article Page
---