Refreshing A Classic Datsun 240Z continued..
Picture Page #3:
---
Below: You always have to get someone to help with the refreshing or restoration of a Z Car. Its the Z Car Law. Here Jim Frederick and Dan Riley arrive on a Saturday from Tampa, ready to work. Of course they bring a couple of very nice 240Z's just to remind me what we are trying to get done on this car....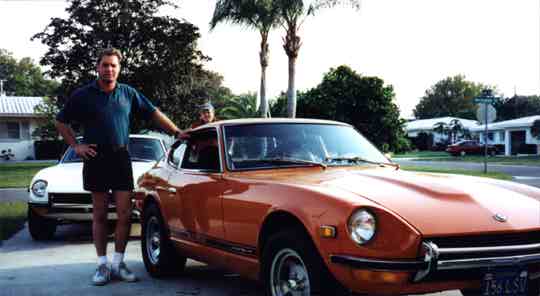 Above: Jim standing with the Orange Z he bought in California and drove back to florida. Jim how has about eight 240Z's including HLS30 00016 (the earliest production car sold to the public) and a very early 70 Fairlady, a V8 and a Convertable Z.

Above: Dan Reilly standing with one of his many 240Z's.. I believe that Dan now has six 240Z's and a 90+ 300ZX. Dan has a 73 240Z that we believe was set-up by Bob Sharp for Paul Newman to autocross.
Below Once all the guys arrived we worked very late into the night dropping the engine and transmission back into the car. We eat a lot of pizza, drink a lot of beer and get a little work done. Here Parker Robinson (standing), my son Carl (with his back to the camera), Jim Frederick (at the back of the transmisson) and Terri (Carl's friend since grade school) all try to get that transmission bolted on to the block. I think we finally wrapped things up in the garage about 3:00AM that evening.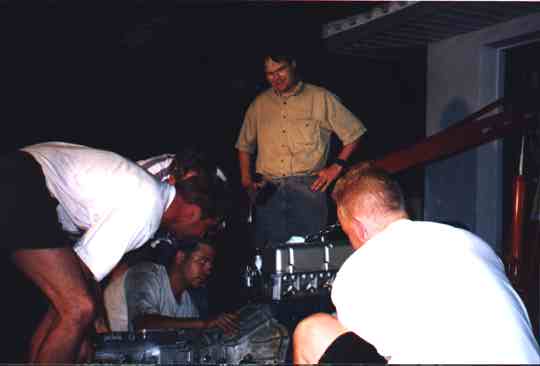 Below: Steve Byrkit came over to help get the carb's set up and tuned out on the engine. I had taken them over to his shop, had them cleaned and rebuilt - then installed them on the car. When we were ready to get the car running Steve came over to do the final adjustments.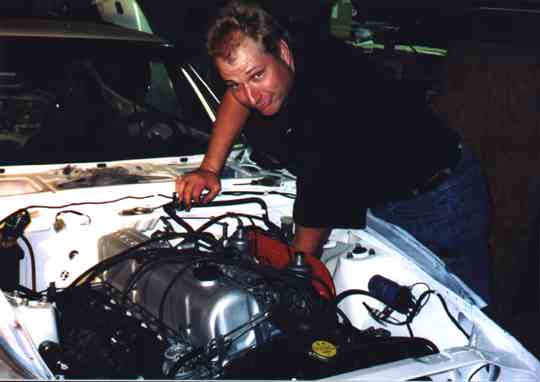 Below: Mary Alice helping in any way she could, I figured that she would make a good wheel and tire person - l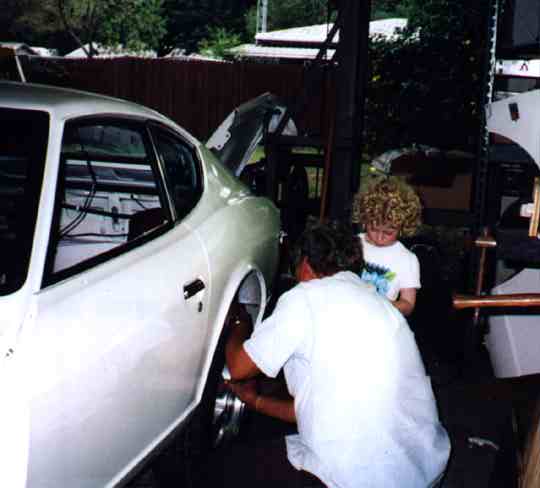 ---