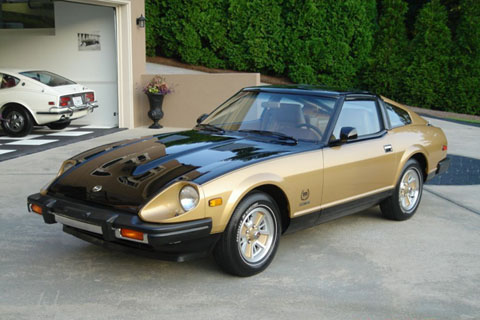 The DATSUN 280ZX
Tenth Anniversary Edition
The Black Gold and Black Red
10th Anniversary
Edition Z's have become one
of the more Collectable Z Cars
Models.
This summary is intended to
give you more information
about these special edition cars.
This section provided by:
Keith Thurston,IZCC #4529 and Rob Tucker
Send Comments To: Rob Tucker,
(last up-dated 16 March 2008)
The Tenth Anniversary of the DATSUN Z Car was commemorated by the factory with the production of a Special Edition Z Car for 1980. This Special Edition was named the "280ZX-10. 10th Anniversary Special Edition". Pictured above is the more popular BLACK GOLD Edition of the 10th Anniversary Edition of 3000 - Registration #0001
Below is an image of the rarer Red and Black version of this Z - #1170.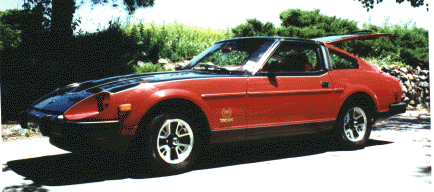 Only 3000 of these cars were produced. 2,500 were BLACK GOLD. while 500 were BLACK RED editions. The commemorative dash plaques were applied to groups of the cars, after groups of the cars were built, so plaque numbers do not indicate the order of production.
The basis for this special edition was the 1980 280ZX GL package. They were all then equipped with a Special Edition Option Package, which included the following:
1. Numbered, Commemorative Dash Plaque (Canadian model has Maple Leaf emblem on Dash Plaque)
2. Two Tone Paint (Gold/Black or Red/Black)
3. Gold Hood Emblem & gold or red stripe on black hood
4. Gold or Black Tone Alloy Wheels
5. Headlight Washers
6. Commemorative Wreath Decals On Lower Front Fenders, Hatch and Owners Manual
7. Goodyear Wingfoot Tires Size P195/70R14
8. Five Speed (with new style shift knob) or A/T
9. Tan or Burgundy Leather Seats
10. Surround Sound Stereo System (AM/FM Radio, Cassette Tape Player (with special tape and letter from Datsun) & Booster))
11. Automatic Temperature Control
12. Black Out Exterior Trim Package
13. Tinted Windshield
14. Tinted T-bar roof
15. Auto temperature control feature



Price - MSRP - $13,850 - $14,300
The Internet Z Car Club is attempting to get all of the 10th Anniversary Edition Z's registered so that collectors, buyers and sellers of these rare and interesting Z Cars will have a known and documented history in the years to come. This will also discourage people from building "fakes", as all the original factory cars will be in our register along with their Vehicle Identification Numbers (VINs). If you presently own one of these fine cars, you may register it by clicking here. If you would like to know more about the 280ZX 10th Anniversary Edition Register, you may Contact Rob Tucker, via e-mail at dcrobt@bellsouth.net.
If you know of any additional information on the 10th AE's please pass that to us also. If you would like to visit the 10th Anniversary Register click here. There are a few that were for sale. If you would like to see some of the advertisements and other 10th Anniversary items, click here.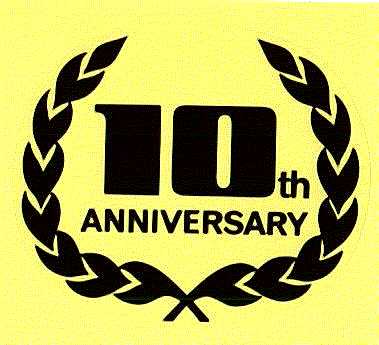 *