Datsun 240Z pursuit cars as used by the Tokyo Municapal Police Department.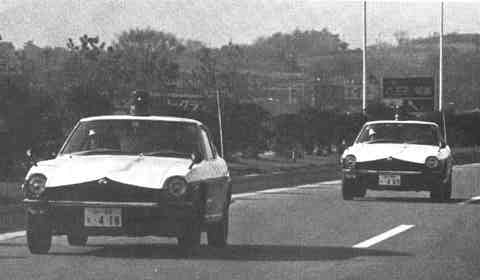 DATSUN 240Z
The Following Is As Published In Road & Track:
An optional engine is now available for this car in Japan with three double choke side draught carburetors. Due to development costs, it is not intended to offer this unit for the American market, largely due to the limited demand expected for it and also the prohibitive costs of de-smogging it for U.S. requirements. If any of our readers expect to be motoring swifty in Japan, The Tokyo Metropolitan Police Force are being equipped with these cars.....

For those readers who are patiently waiting delivery of their 240Z's, good news. Production has been stepped up considerably too cope with the exceptional demand for the cars. Datsun frankly admit to having underestimated the unprecedented demand for the automobile.
Three Carburetor twin overhead cam. Datsun Z engine rated at 160H.P. (Japan Rating).
Click Here To See Full Size Image Of Mag. Article (137KB file size)
---
Carl Beck IZCC#260 03 Dec. 1998
corrected 06 Sept.01