THE DATSUN 240Z
RALLY CARS
Some Rare And Interesting Photo's
Contributed by Patrik Eriksson at Linkoping University, Linkoping Sweden
As of 8 Jan. 98

---
The Following Two Pictures: - were taken during the Moroccan rally 1972.: The rally was a world championship event for manufacturers during the early seveties. Datsun entered the rally in 1972 and 1973 with the 240Z, but did not (as evidenced in the picture) have any succes in either year. The Morrocan rally stretched along rugged gravel roads along the Atlas mountin ranges. Today the infamous Paris - Dakar Rally partly uses the same itineary. The pictures show the Kenyan worksdriver Shekhar Mehta and his wrecked 240Z, they were leading the event at the time of the accident.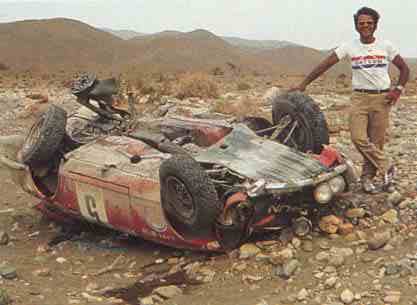 ---
The Picture (Below) shows the Datsun Fairlady in the 1972 East African Safari, driven by the Finnish worksdriver Rauno Aaltonen, shortly after the start at Daar es Salaam in Tanzania, they finnished sixth overall.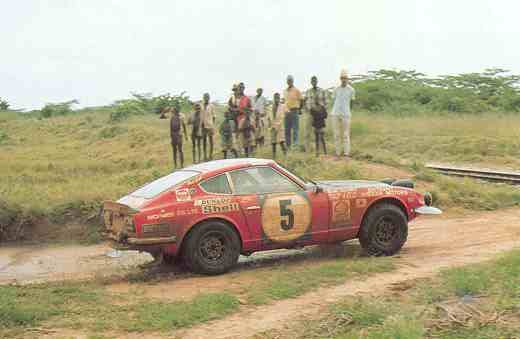 ---
The Following Two Pictures (Below): shows the Swedish worksdriver Harry Kallstrom's FairladyZ. He used the car in several North European rally events during 1972 - 74. The engine output was 255bhp but heavy weight prevented it from being a steady winner in the often icy and wet conditions.(More info and pics will follow about this car later.)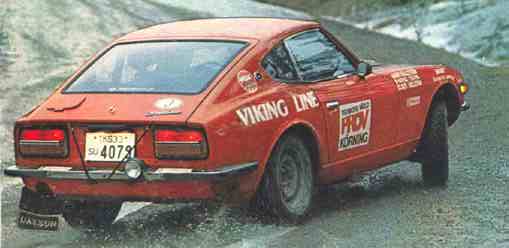 ---
Pictured Below is The MB 450SLC: This picture shows the Finnish World Rally Champion Hannu Mikkola at the -79 East African Safari in full flight. Despite being in the lead for most of the time the fan came loose and destroyed the radiator just 80 kilometers from the finnish. Thus Shekhar Metha could win with the moderate Datsun 160J just in front of Mikkola.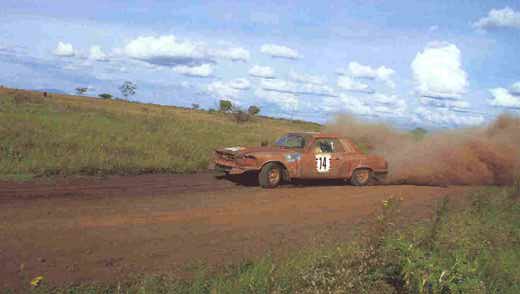 Hannu Mikkola was a works driver at Mercedes in 1979 and 80 and his spectacular handling and speed with these two tonne V8-powered automatic transmission monsters was a delightful sight. I know this is not a Datsun 240Z but it may be interesting to know that despite huge efforts by the Mercedes factory to make this car a rally winner they were constantly beaten by the tinier Datsuns. It clearly shows that without the right equipment no money in the world can buy you a rally winner, not even Mercedes'.

---