1971 Late Model 240 Z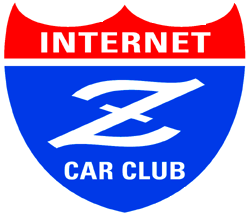 Contributed by: Carl Beck & Elliot Welz.
Last Up Date 15 Feb., 2001
---
The "Series I" Datsun 240Z's were produced from Oct. 1969 and through Jan. 1971. This production period covered two Model Years (1970 & 1971). However Datsun did not implement design or production changes based on normal US Model Years during this period.

So in February of Calendar Year 1971 Datsun introduced what they referred to as the "New 1971 Late Model Datsun 240Z Sports". We refer to these as "Series II" Z Cars - ie. the second series of chassis serial numbers used for the 1971 Model Year.

Listed below is a summary of the design/production changes incorporated in the "Series II" 240-Z's. This information was published in a Datsun Factory Service Bulletin dated: Febuary 1971, VOL. 137. According to this Service Bulletin the changes were to be put into production with HLS30 21001 and HS30 0501.
---
Copies of this Service Bullentin were contributed
by: Elliot Welz, ZCOOR #115

Click on image to see enlarged version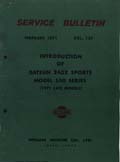 ---
Summary of changes:
BODY:
1. Ventilation Air Outlets- Change in fresh air ventilation system outlets to rear quarter panels from decklid

2. Two Step Door Check Link>. holds doors open, was full open, now full and half open)

3. Seat Belt Release changed from latch to button, and hangers from seat to rear panel

4. Reversible Key-for starter, steering lock and glove box.

5. Steering Wheel- has punched out holes, they were indents

6. Center Vent Defuser- redesigned and add vertical deflectors

7. Sun Visor - enlarged by about 1" in length

8. Tool Storage- moved to rear deck pockets

9. Reclining/Flip Forward Seat (Option)
The new 240-Z features a "Tilt" mechanism for its reclining seat. By this the seat can be tilted forward to permit easier acess to the tools or baggage stowed behind the seat back. Note: although listed as an "Option" in this Factory Service Bulletin - none were imported into the North American Market.
CHASSIS:
1. Tire Specification - from 175SR14 to 175HR14

BODY ELECTRICAL:
1. Speedometer- starts at "0" mph instead of 20MPH

2. Oil Pressure Gauge recalibrated

3. Map Light- hood added to map lamp to reduce glare

4. Windshield Wipers - speed up from 68 strokes per minute to 75 spm on "High" speed.

5. Defogger Switch -- changed to include warring light

6. Tail Light Assy- now has four bulbs instead of three

7. Headlight harness changed to prevent electro-chemical attach on lamp terminals