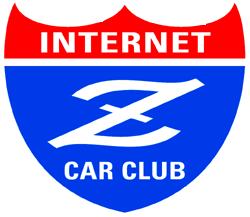 A Look Inside Nissan's Engineering Development Section
As The Z Car Was Being Created.
By: Shigeru Nagata
As Of 15 Aug. 2016

---
I would like to introduce everyone to Mr. Shigeru Nagata, whom I had the pleasure of meeting at the 2015 ZCCA Convention. Mr. Nagata was accompanied by his son Michio, an American engineering inclined businessman from L.A., California. During our meeting Mr. Shigeru Nagata said that he would like to share the story presented below, with the American Z Car Enthusiasts. I think everyone will find it very interesting.
Mr. Shigeru Nagata entered Nissan Motor Co. Ltd in 1961. Having completed his Bachelors Degree in Engineering, with emphasis in Industrial Design and with Honors from Chiba University in Japan. Accepting a position in Nissan's Vehicle Design & Research Development Department he would witness the Department's significant growth and evolution over the next ten years.
Mr. Nagata was a development team member of the the Datsun 240Z and the Nissan Z32 300ZX. As Shigeru being among the few who was fluent in English; although he was not directly involved with the first generation Silvia CSP311, he accompanied with Albreght Goertz mainly in interpreting, communicating and conducting various involvements. He wrote the Project Proposal for the S130 280ZX, but was quickly re-directed to an assignment to build a new design center in the United States at the end of the 1970's. Nissan Design International was founded in 1979, had a ground breaking ceremony in 1981 and completed in February 1983 in La Jolla, CA: today known as Nissan Design America.
Following the opening of NDI, Shigeru was sent to Japan for the Development of the Infiniti Q45, Infiniti G20/Nissan Primera, Silvia S13 and Nissan Z32 300ZX. Then set to Germany in the early 90's to establish Nissan Design Europe in Munich. After retirement from Nissan, he established a design consulting company for Nissan called "Interface in Design" located in Nissan North America's H.Q. building in Torrance, CA.
Copied below is Mr. Nagata's history of Nissan Vehicle Design & Engineering Development Department's, adaptation and development of full-size clay modeling and the development of interior safety designs to meet the US Federal Motor Vehicle Safety Standard. (FMVSS-US)

Page 1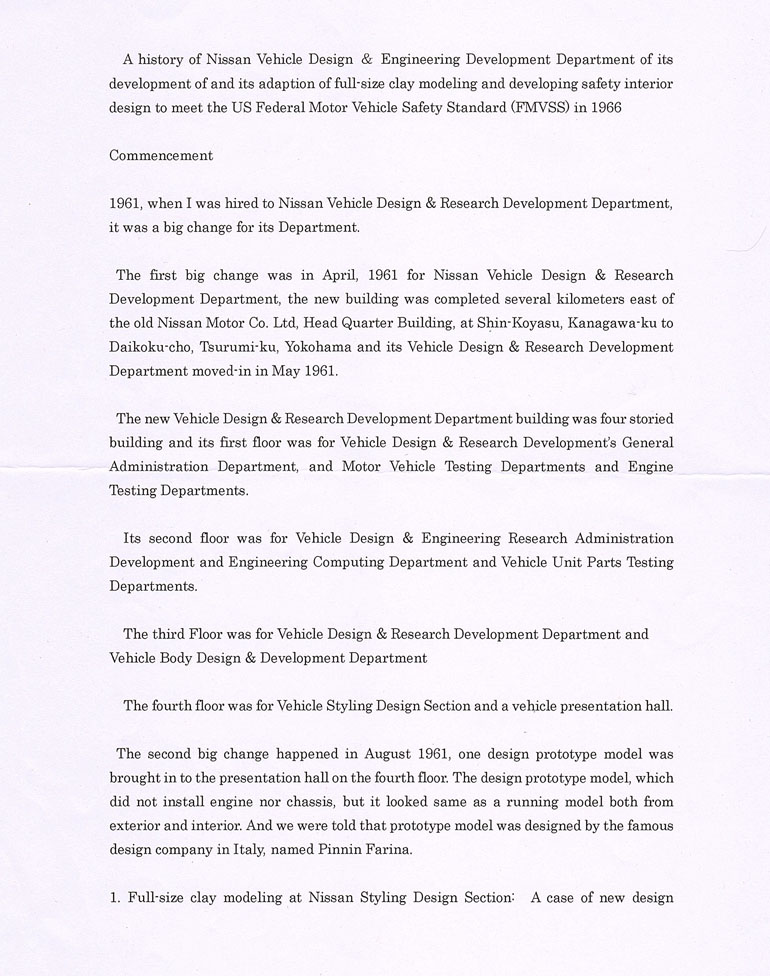 Page 2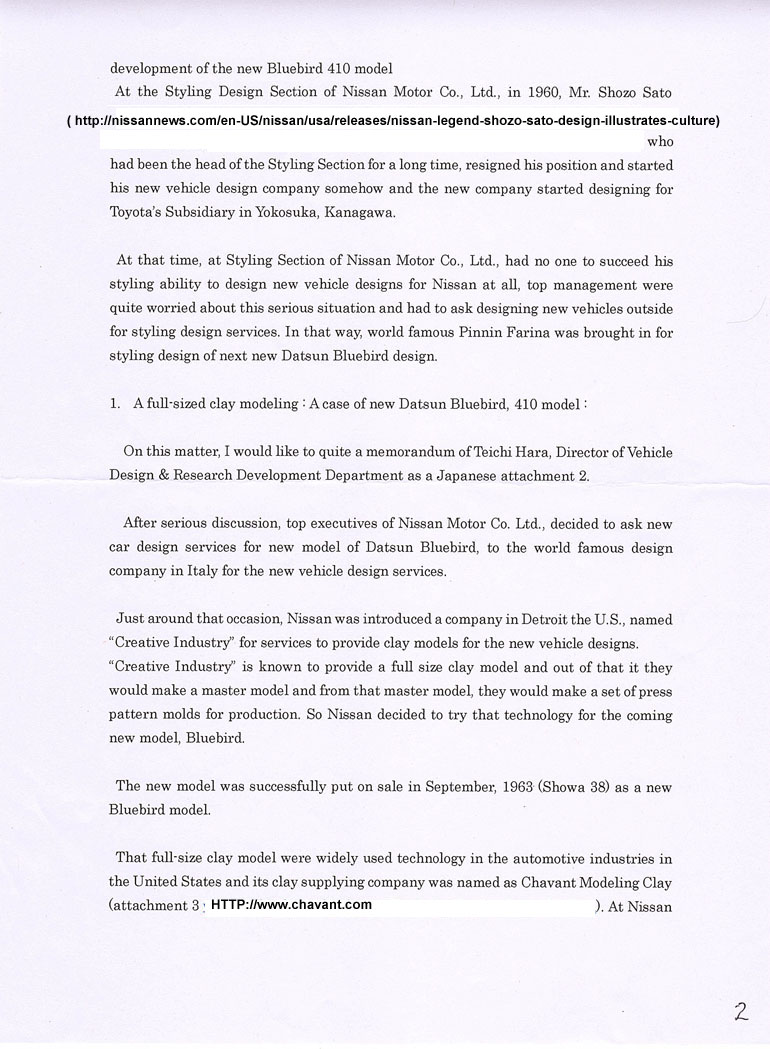 NOTE: Clickable Hyperlinks In Page 2 Above:
http://nissannews.com/en-US/nissan/usa/releases/nissan-legend-shozo-sato-design-illustrates-culture
and
http://www.chavant.com/

Page 3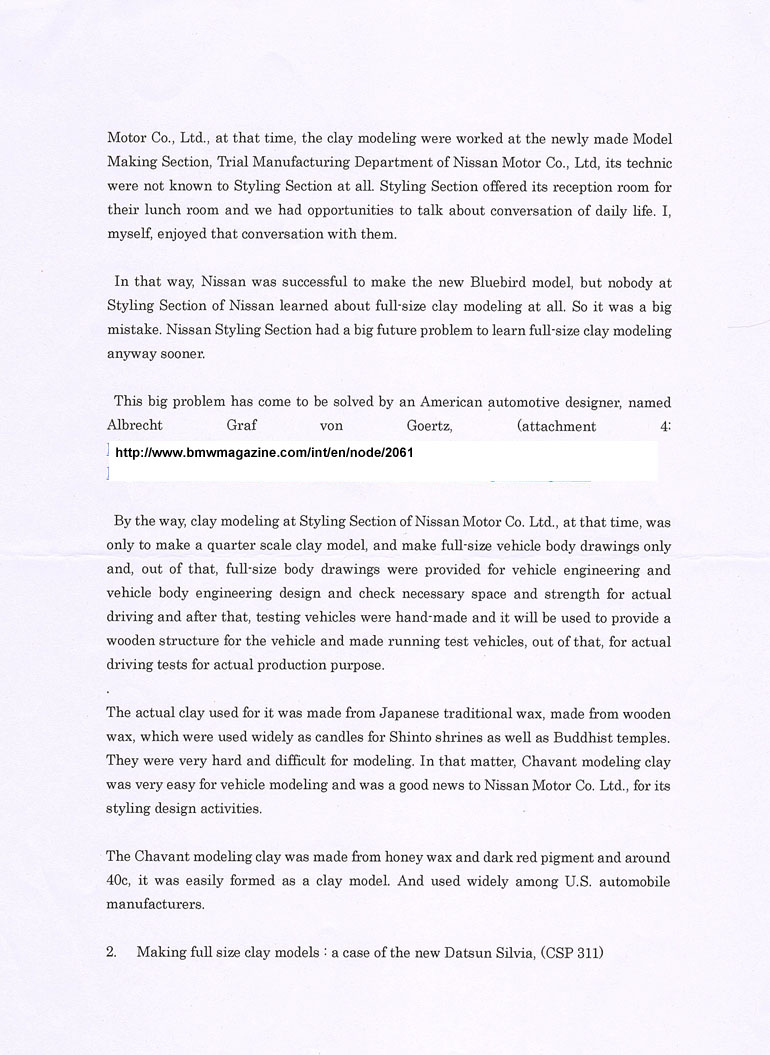 NOTE: Clickable Hyperlinks In Page 3 Above:
http://www.bmwmagazine.com/int/en/node/2061

Page 4


NOTE: Clickable Hyperlinks In Page 4 Above:
https://www.youtube.com/watch?v=eJIu8uBkrp0&feature=youtu.be

Page 5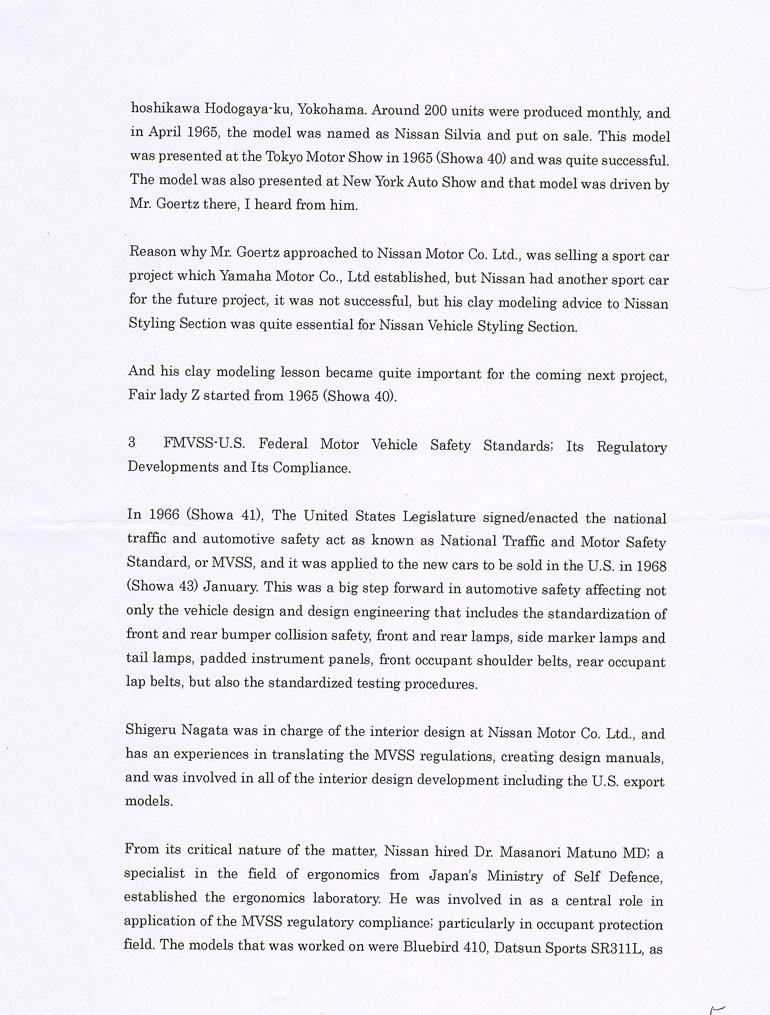 Page 6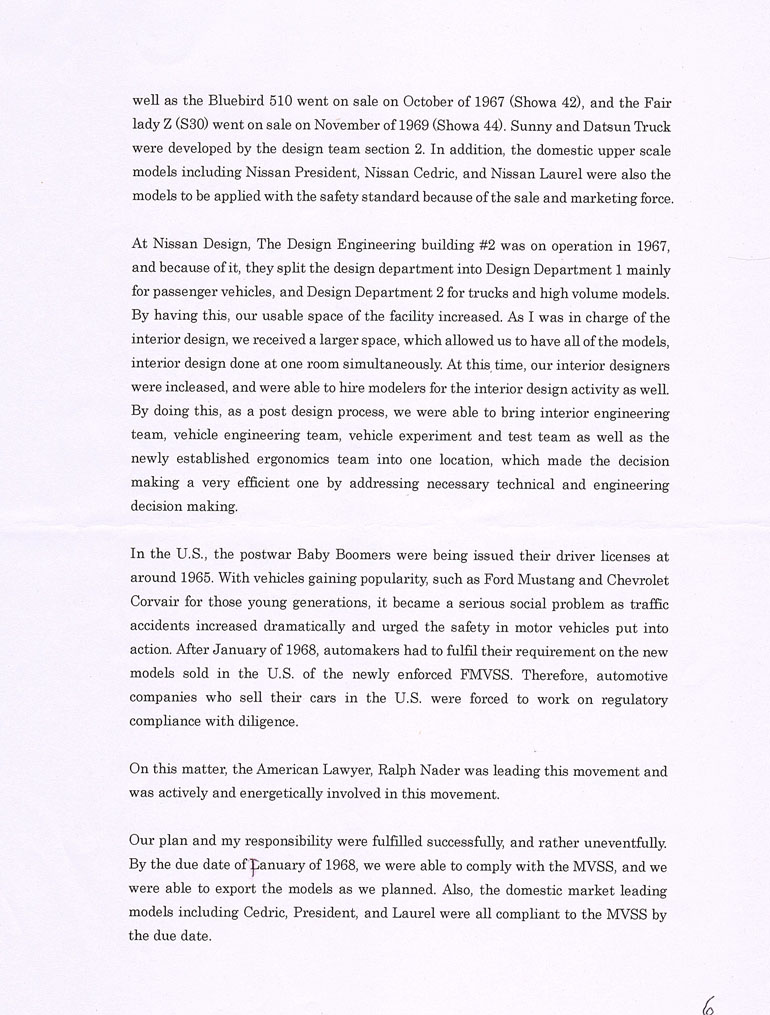 Page 7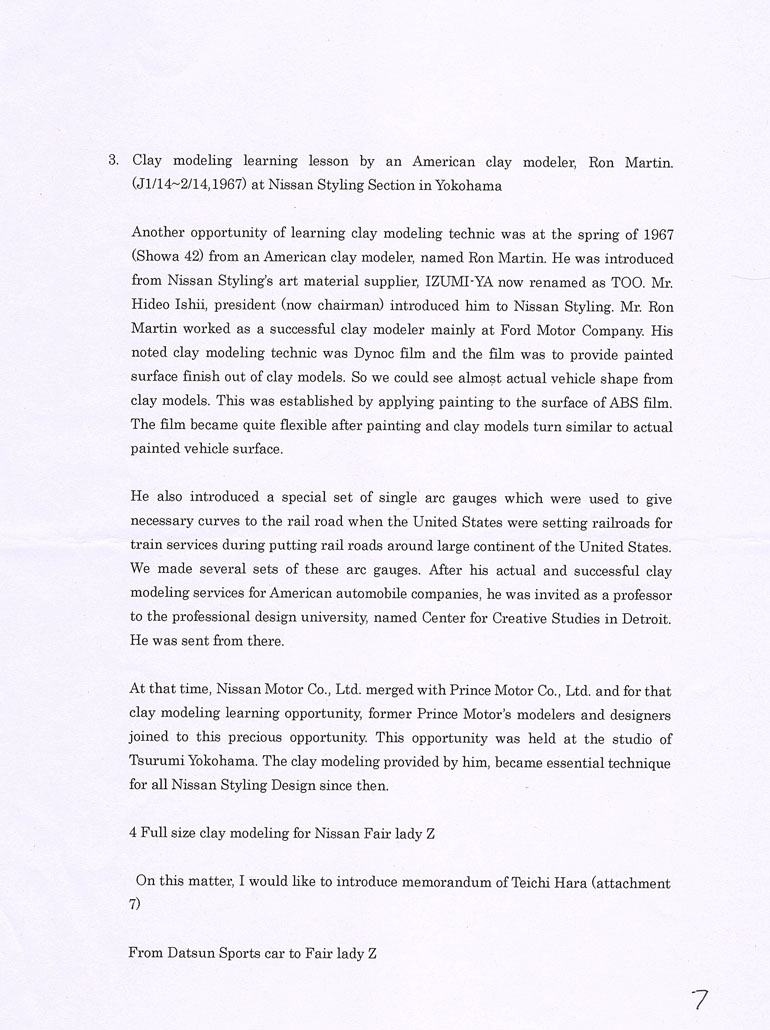 Page 8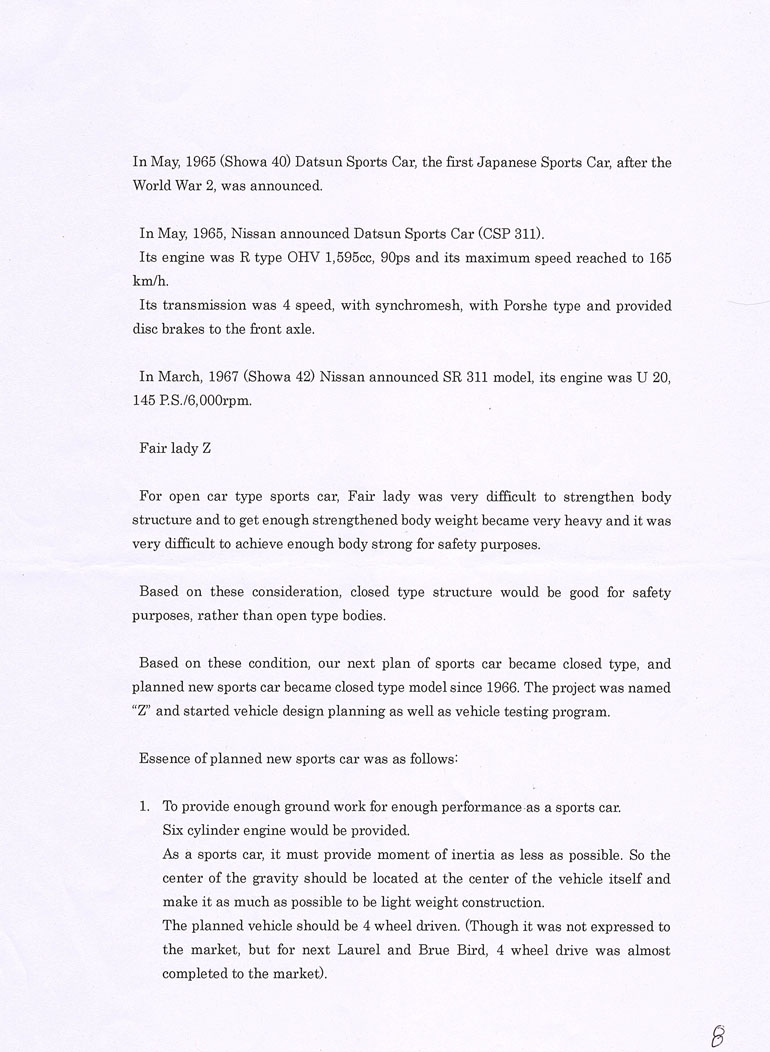 Page 9