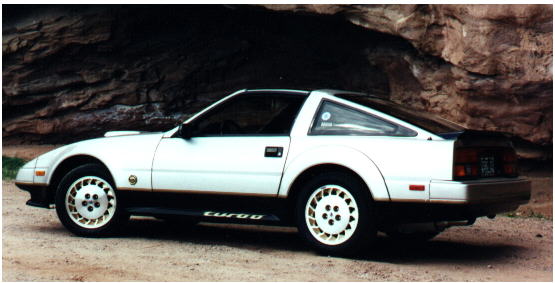 The 1984 NISSAN 300ZX 50th Anniversary Edition
Contributed to the Z Car Home Page by: Ethan Snyder

These Silver and Black
50th Anniversary Edition Z's
have become one of the more
Collectable Z Car Models.


This summary is intended to give you general information about these special edition cars as sold in North America. (as of 25 Oct. 05)


If you presently own one of these fine cars, you may register it at any time by clicking here
---
INTRODUCTION:
To commemorate their 50th Anniversary (1934 to 1984), NISSAN MOTORS Ltd. issued a Special Edition version of their new 300ZX Turbo. The 1984 300ZX Turbo "50th Anniversary Edition" was produced in limited numbers. A continuation of the popular Z-Car line, the 300ZX featured substantial technical advantages over its predecessors and continued the movement of the Z Car from its role as a Sports/GT toward a more modern and luxurious Grand Touring Car.
---
While a few other 300ZX Turbo models that year displayed the 50th Anniversary logo (shown below) only 5000 1984 300ZX's received the truly "significant" appearance and performance enhancements found in the 50th Anniversary Edition Option Package.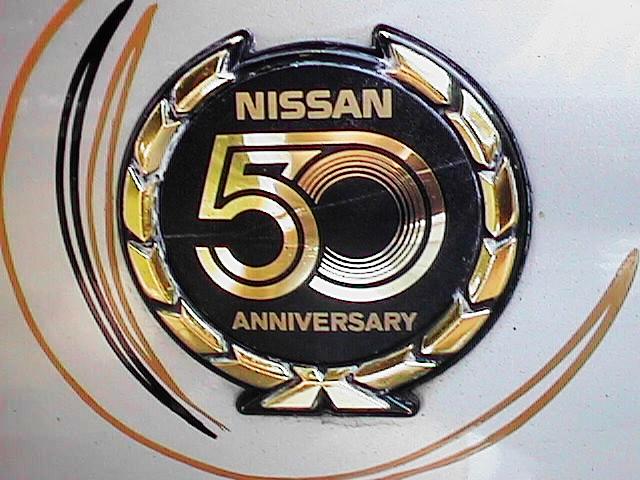 SPECIFICATIONS


BODY: 
  Type:   2 seater coupe, t-tops
  Drag:  .31 Cd.
Weight:   3,050 lbs



ENGINE:(SOHC,3.0L,V6 Turbo,Iron Block and Aluminum Heads)
     Bore x Stroke:  3.43 X3.27 in, 87.0 X 83.0mm
 Compression Ratio:  7.8:1
       Fuel System:  Nissan ECCS electronic fuel injection
      Turbocharger:  AirResearch T5
Max.Boost Pressure:  6.7 psi
      Displacement:  181cu in. 
      HP (SAE net):  200hp @ 5200rpm
  Torque (SAE net):  227 lbs-ft @ 3600 rpm



TRANSMISSION: 
  4spd Automatic or 5spd Manual



SUSPENSION: 
Front:  ind, MacPherson strut, coil sprints, anti-sway bar
 Rear:  ind, semi-trailing arms, coil springs, anti-sway bar
 Note:  3 way adjustable shock absorbers



BRAKES: 
 Rear: 10.8-in vented disk
Front: 11.4-in disc 



PERFORMANCE:
 Accleration:
           -0-60:    7 Seconds
   -Quarter Mile:   15.44 sec @ 89.5 mph
      -Top Speed:  137 mph
 Braking: 
        -60-Omph:  130 ft

---
50th Anniversary Edition "Features"
The 1984, 50th Anniversary Edition 300zx Turbo came with perhaps the longest list of STANDARD features in automotive history. The only option buyers had was an automatic, or manual transmission.
The Following Features Were On All 50th A.E. 300ZX's:
(Note: The Links Below Are To Full Size JPEG Images Averaging 60K each!)
* Nissan 50th Anniversary Logos behind the front wheels
* Two-tone metallic paint. Silver on Black separated by a triple gold pinstripe
* Extended front and rear fenders
* 225/50VR16 Pirelli P7. tires mounted on silver rims with gold highlights
* Enhanced 3-way adjustable shocks
* Bronze tint glass t-tops- "looks sharp" according to a Nissan publication
* Black Leather Seats with "50th Logos"
* 6-Way Adjustable drivers seat with Custom Air Inflation Bladders.
* Wood Grain Dash Inserts (ok, they're plastic)
* Clarion 8-Speaker AM/FM Stereo Cassette with digital presets and tuner. Steering Wheel Controls for auxiliary functions.
* Bodysonic Amplifier (8 mini-bass speakers built into each seat which allow you to literally feel the music).
* Floor Mats with 50th Anniversary Logos
* Car Cover with 50th Anniversary logo
* Gold 50th Anniversary Key

Standard "Power" Package (found on all fully loaded Z's) including: - Power Windows, Power Door Locks, Heated Remote Control Side Mirrors, Cruise Control,
Rear Defrost and Wiper, Headlight and Windshield Cleaners, Auto-dim Interior Lights with Door Handle Control, Anti-theft System, Voice Warning System: "Left/Right Door Open", "Parking Brake ON", "Lights ON"

Digital Dash Board with advanced displays for: MPH, RPM, Engine Efficiency, Instantaneous Miles Per Gallon, Range To Empty, Gallons Remaining, Positive and Negative Acceleration (measured in "g's"), Dual Trip Odometer, Compass, Clock