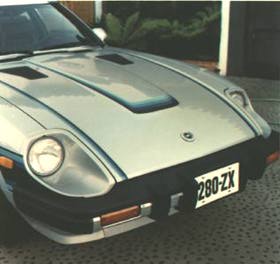 The 1979 DATSUN 280ZX-R
Contributed to the Z Car Home Page
by: Carl Beck, IZCC #260
(as of 24 Mar. 98)
(update 25 Jan. 2008)
(update23 Nov. 2009)

The Special Edition 280ZX-R
was limited in production to only
1009 units. They are very rare today indeed!

This summary is intended to give you general information about these special edition cars.
Pictured At Right: - The front of the 280ZX-R had blue racing stripes on both sides of the hood and around the "power buldge".
---
INTRODUCTION:
The DATSUN 280 ZX-R's were produced by NISSAN Motors to homologate the large rear wing for SCCA Competition. At least 1000 units had to be produced to meet the qualification requirements for "Production Class" status. Thus only 1009 were produced and offered to the public "For Sale", through the DATSUN Dealers.

The ZXR was a standard 280ZX coupe with special deacal package on a Silver Mist Metallic paint scheme. The factory registered special edition cost the new owner $399.00 extra.

CLICK HERE To View The Complete List Of VIN numbers, for the Limited Edition 280ZX-R.

CLICK HERE To Add Your 280ZX-R To The 280ZX Register. NOTE: This link will take you off the Z Car Home Page To The XenonS130 Site.
---
The side strips shown in the picture below, were actually full body lenght decals. Note also the large -R- designation after the ZX side emblem.
---
Here is a close up of that side emblem. Note also the two tone blue strips on a black backgound.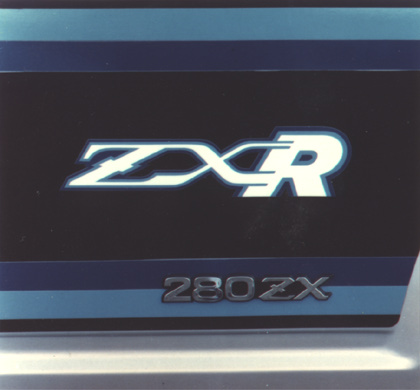 ---
Pictured below: The large - Rear Wing - that this homologation special was all about.
---
A 280ZXR WING KIT - Was also offered by Nissan Motorsports via the DATSUN Competition Parts Catalog.
Here is what the listing said: Wing is made of molded rubber and is identical to the one used on SCCA and IMSA winning 280ZX's. Will generate over 370 lbs. of downforce at 100 MPH. To counteract front end lift, an air dam should also be installed. Instructions, H/D deck lid struts and all mounting hardware included. Will NOT fit 2+2's and requires modification to clear rear wiper.
Pictured below the Electromotive 280ZX with Rear Wing and Front Air Dam installed.
Don Devendorf Driving for Electromotive Racing gained the 1979 IMSA GTU Championship. (GTU was Grand Touring Under 2.5L)
---