Welcome to the IZCC's
- Vintage Z Car Register - (VZCR)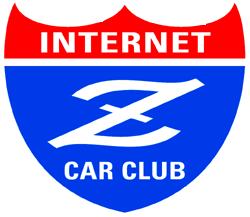 The Purpose of the IZCC's - Vintage Z Car Register is twofold;
a) to encourage the preservation of one of the most unique Classic Cars in automotive history; and b) to discourage counterfit copies of the originals.
Our Goal is to document and register the cars and their owners, here publicly. So that in the future only 37 of the original 37 Vintage Z's will be "found"..
Based on the best available sources of information (Nissan Employees that worked on the Vintage Z Program) listed below are the VIN's of all 37 Vintage Z's completed during Nissan Motor's Vintage Z Program. Nissan retained 2 of the 37 for their collections. 35 are in the hands of private owners. All Vintage Z VIN's are listed below.
Note: Unlike our other Z Car Registers, we will record car information related to existence / ownership or location, reported by other than the current owners, if sufficient documentation is provided by the person reporting the car. Pictures of the VIN, the Vinage Z Dash Plaque etc. will be considered proof, if not proof positive.
A main goal at this point is to get all the Vintage Z's VIN's listed. As far as we know at present that should be 37 of them. So far we have 34 Registered.
Our best available information indicates that 37 Vintage Z's were completed. HOWEVER - If additional vehicles are found with Complete Program Documentation, we well update this listing. Program Documentation must include: Original VZ Window Sticker, Certificate of Authenticity, Vehicle Limited Warranty Booklet, Vintage Z Center Console Plaque, Vintage Z Quarter Window Decal, and Owners Manual.


Click The Vintage Z Dash Plaque Above For List Of Original Z-Stores

Last Update 25 June 2020 ..cjb

---
Data Format and Content of the VZCR:


Example:


             VIN:
 Production Date:(original production date from door jam)
 Color Body /Int:
 Orig.Eng.Number:
     Eng. Number:marked #2  if different than original
           Owner:
City/State/Cntry:
 Sold By Z Store:
        Comments:
          e-mail:
 Date Registered: Day/Mo/Yr
     Reported by: if different than current owner



---




             VIN:  HLS30 00222
 Production Date:  11 / 69
 Color Body /Int:  Silver Black
 Orig.Eng.Number: 
     Eng. Number: 
           Owner: Malamut Auto Museum
City/State/Cntry: Thousand Oaks, CA USA
 Sold By Z Store: Universal Nissan
        Comments:          
 Date Registered:  7 Aug. 07, update 19June2017
     Reported by:  Owner


---



             VIN: HLS30 00630
 Production Date: 01 / 70
 Color Body /Int: Red/Black
 Orig.Eng.Number: L24-03245
           Owner: Auto Garage Motoyama
City/State/Cntry: Japan
 Sold By Z Store: Nissan Charity Auction
        Comments: Offered For Sale At $50K USD
          e-mail:
 Date Registered:  18 July 05
     Reported by:  Kats {Katsuhiko Endo} in Japan



---




             VIN: HLS30 01499
 NOT YET REGISTERED:



---



             VIN:  HLS30 03924 
 Production Date:  04 / 70 
 Color Body /Int:  Gold / Black 
 Orig.Eng.Number:  L24-6153 
           Owner:  Mr. Oba 
City/State/Cntry:  Japan 
 Sold By Z Store:  Performance Nissan 
        Comments:  5spd and Mags added by owner 
          e-mail:
 Date Registered:
     Reported by:  Kats {Katsuhiko Endo} in Japan 



---



             VIN:  HLS30 04295
 Production Date:  05/70
 Color Body /Int:  Silver / Black
 Orig.Eng.Number:  L24-07363
           Owner:  Jim Frederick
City/State/Cntry:  Lutz, FL
 Sold By Z Store:  Sutherlin Nissan
        Comments:
          e-mail:  jim240Z@aol.com
 Date Registered:  03  Aug. 2014
     Reported by:  Owner





---



             VIN:  HLS30 05041 
 Production Date:  06 / 70 
 Color Body /Int:  Gold / black 
 Orig.Eng.Number:  L24-008749
           Owner:  Mike Moses  
City/State/Cntry:  Burbank, CA
 Sold By Z Store:  Sutherlin Nissan 
        Comments:   
          e-mail:  mike356911@icloud.com
 Date Registered:  19June2020
     Reported by: current owner 



---



             VIN:  HLS30 05811 
 Production Date:  06 / 70  
 Color Body /Int:  Gold/Black 
 Orig.Eng.Number:  L24-08926
           Owner:  Daisuke Hashimoto 
City/State/Cntry:  Japan 
 Sold By Z Store:  Universal City Nissan 
        Comments: 
          e-mail: 
 Date Registered:  11 April 05 
     Reported by:  Joseph.Gauci   



---



             VIN:HLS30 08088
 Production Date: 08 / 70
 Color Body /Int: Yellow / Black
 Orig.Eng.Number:
     Eng. Number: if different than original marked #2 
           Owner: Lynnes Nissan West
City/State/Cntry: Stanhope, NJ
 Sold By Z Store:
        Comments:
          e-mail:
 Date Registered: 3 June 2014
     Reported by: Mike Memko


---




             VIN: HLS30 09965
 Production Date: 09 / 70
 Color Body /Int: Gold/Black
 Orig.Eng.Number: L24--013234
           Owner: Collector in Atlanta, GA
City/State/Cntry: Atlanta, GA, USA
 Sold By Z Store: Browns Fairfax Nissan, Fairfax, VA
        Comments:
          e-mail:
 Date Registered: 15 Aug. 2015
     Reported by:  Owner



---



             VIN:  HLS30 11553 
 Production Date:  10 / 70 
 Color Body /Int:  Red / black 
 Orig.Eng.Number:  L24-15666 
           Owner:  Bob Coleman 
City/State/Cntry:  Orange, California, USA 
 Sold By Z Store:  Courtesy Nissan 
        Comments: 
          e-mail:  bccal@msn.com 
 Date Registered:  13 June 07 
     Reported by:  owner 



---



             VIN:  HLS30 13018 
 Production Date:  11 / 70 
 Color Body /Int:  Silver / Black 
 Orig.Eng.Number:  L24-17391
           Owner:
City/State/Cntry:  In Japan 
 Sold By Z Store:  Universal City Nissan 
        Comments:
          e-mail:
 Date Registered:  10/07/05 
     Reported by:  Kats {Katsuhiko Endo} in Japan 



---



             VIN:  HLS30 15189 
 Production Date:  11 / 70 
 Color Body /Int:  918 Orange 
 Orig.Eng.Number:  L24-20153
           Owner:
City/State/Cntry:  Laguna Beach, CA 
 Sold By Z Store:  Universal City Nissan 1997 
        Comments:  Automatic Transmission, on ebay 14Mar05 
          e-mail:
 Date Registered:  14 March 2005 
     Reported by:  Bob Berke   



---




             VIN: HLS30 23537
 NOT YET REGISTERED:



---


             VIN:  HLS30 23732 
 Production Date:  20 / 71  
 Color Body /Int:  Gold/Black 
 Orig.Eng.Number:  L24-030319 
           Owner:  Alan Wiley 
City/State/Cntry:  Dallas, TX USA 
 Sold By Z Store:  Bankston Nissan 
        Comments:
          e-mail:
 Date Registered:  19 June 07 
     Reported by:  Owner


---



             VIN:  HLS30 28392 
 Production Date:  04/ 71  
 Color Body /Int:  903 Blue / Black 
 Orig.Eng.Number:  L24-035743 
     Eng. Number:  #2 L24-61320  
           Owner:  Jim Frederick 
City/State/Cntry:  Lutz, Florida USA  
 Sold By Z Store:  Courtesy Nissan 
        Comments:
          e-mail:  Jim240z@aol.com
 Date Registered:  09 March 07 
     Reported by:  Owner



---



             VIN:  HLS30 28537 
 Production Date:  04 / 71 
 Color Body /Int:  918 Orange/Black 
 Orig.Eng.Number:
     Eng. Number: 
           Owner:  Andy Halliday 
City/State/Cntry:  Oklahoma City , OK 
 Sold By Z Store:  Performance Nissan, May 4, 1999 
        Comments:
          e-mail:
 Date Registered:  28 March 05 
     Reported by:  Owner



---


             VIN:  HLS30 29247 
 Production Date:  04 / 71  
 Color Body /Int:  919 Yellow 
 Orig.Eng.Number:  L24-037290 
     Eng. Number:  #2  L24-054597  
           Owner:  Keith Crain 
City/State/Cntry:  Chicago, IL USA 
 Sold By Z Store:  Nissan Motors 
        Comments:
          e-mail:  
 Date Registered:  23 July 07 
     Reported by:  owner  

---



             VIN:  HLS30 32089 
 Production Date:  05 / 71  
 Color Body /Int:  Silver / Black 
 Orig.Eng.Number:  L24-40578
           Owner:  Nissan Motors USA 
City/State/Cntry:
 Sold By Z Store:
        Comments:  Nissan Press Car/Nissan Museum USA 
          e-mail:
 Date Registered:
     Reported by:  Carl Beck    

 

---


     
             VIN:  HLS30 40904 
 Production Date:  08 / 71  
 Color Body /Int:  Red/black 
 Orig.Eng.Number: 
     Eng. Number:  
           Owner:  Jay Herbst
City/State/Cntry:  Ft. Myers, FL USA
 Sold By Z Store:  Coggin Nissan 
        Comments:  52,299 miles 
                   :reSold by Peak Nissan, Co 
          e-mail:
 Date Registered:  27 July 09
     Reported by:  Owner   



---



             VIN:  HLS30 41797 
 Production Date:  08 / 71 
 Color Body /Int:  Green/Black 
 Orig.Eng.Number:  L24-050891 
           Owner:  Jim Frederick
City/State/Cntry:  Lutz, Florida
 Sold By Z Store:  Coggin Nissan 
        Comments:  Automatic Transmission 
          e-mail:  Jim240z@aol.com
 Date Registered:  02 July 05 
     Reported by:  Owner



---



             VIN:  HLS30 41857 
 Production Date:  08/ 71 
 Color Body /Int:  Gold / black 
 Orig.Eng.Number: 
     Eng. Number:  #2 L24 139041  
           Owner:  Jim Frederick 
City/State/Cntry:  Lutz, Florida 
 Sold By Z Store:  Esserman Nissan 
        Comments:  Automatic Transmission 
          e-mail:  Jim240z@aol.com
 Date Registered:  14 Dec. 03 
     Reported by:  Owner



---



             VIN:  HLS30 49110 
 Production Date:  10 / 71 
 Color Body /Int:  White / Red&Black  
 Orig.Eng.Number:  L24-060311 
     Eng. Number:  #2 L24-1800094 
           Owner:  Jim Frederick
City/State/Cntry:  Lutz, Florida USA 
 Sold By Z Store:  Courtesy Nissan 
        Comments: 
          e-mail:  Jim240z@aol.com
 Date Registered:  26/July/06 
     Reported by:  Owner 



---





             VIN:  HLS30 53543
 Production Date:  11 / 71
 Color Body /Int:  Orange/Black
 Orig.Eng.Number:  L24-66510
 Current Eng.   :  now 3.1 Rebello 
           Owner:  Curtis Studor
City/State/Cntry:  Cleveland, Ohio USA
 Sold By Z Store:  Stevens Creek Nissan
        Comments:  5spd. 3.9 diff. triple Mikunis
          e-mail: 
 Date Registered:  25 April 09
    Date Updated:  2July 2017
      Reported by:  Owner 



---



             VIN: HLS30 55472
 Production Date: 11 / 71 
 Color Body /Int: Orange / Black
 Orig.Eng.Number: L24-070611
           Owner: Stan Zamkow
City/State/Cntry: Sharon, MA, USA
 Sold By Z Store: Coggin Nissan, Jacksonville, FL.
        Comments: Pictured with 1977 Piper Arrow.
          e-mail: 240Z@zamkow.net
 Date Registered: 22 July 2018
     Reported by: Owner  



---


 
             VIN:  HLS30 56609 
 Production Date:  12 / 71  
 Color Body /Int:  Silver/Black 
 Orig.Eng.Number: 
     Eng. Number:  #2 - L24-152046
           Owner:  Daisuke Hashimoto  
City/State/Cntry:  Japan  
 Sold By Z Store:  Universal City Nissan 
        Comments:  
          e-mail: 
 Date Registered:  11 Apr. 05 
     Reported by:  Joseph.Gauci 



---



             VIN:  HLS30 57300 
 Production Date:  12 / 71 
 Color Body /Int:  112 Yellow/Black 
 Orig.Eng.Number:  L24-71377
           Owner:  Mike & Debbie Rogers 
City/State/Cntry:  Mooresville, NC, USA 
 Sold By Z Store:  Universal Nissan 
        Comments:
          e-mail:
 Date Registered:  22 March 07 
     Reported by:  owner 



---

 

             VIN: HLS30 60354 
 Production Date:  12 / 71 
 Color Body /Int:  White/Black 
 Orig.Eng.Number:  073297 
           Owner:  Jim Frederick
City/State/Cntry:  Lutz, FL,  USA 
 Sold By Z Store:  Ferman Nissan, Tampa, FL 
        Comments:
          e-mail:  Jim240z@aol.com
Dates Registered:  02 Jun. 07 
     Reported by:  Owner


---



             VIN:  HLS30 62850 
 Production Date:  01 / 72 
 Color Body /Int:  Gold/Black 
 Orig.Eng.Number:  L24 077429 
           Owner:   Nissan Motor Corp. in Guam
City/State/Cntry:  Tamuning, GU 96913 
 Sold By Z Store:  Held by Nissan Guam 
        Comments:
          e-mail:  bdowney@nissanguam.com 
 Date Registered:  18 July 05 
     Reported by:  Brian Downey, Gen. Sales. Mrg.   



---





             VIN: HLS30 66068
 Production Date: 02 / 72 
 Color Body /Int: Silver/Black
 Orig.Eng.Number: L24 82485
           Owner: Eric Barton
City/State/Cntry: Tucson AZ USA
 Sold By Z Store: Universal City Nissan
        Comments:
          e-mail:
 Date Registered: 29 April 2012
     Reported by: Owner



---



             VIN:  HLS30 68727 
 Production Date:  02 / 72 
 Color Body /Int:  Red/black 
 Orig.Eng.Number:  L24 86793 
           Owner:  Dave Chouinard
City/State/Cntry:  Palm Harbor, FL USA
 Sold By Z Store:  Courtesy Nissan 
        Comments:
          e-mail:
 Date Registered:  1 May 2015
     Reported by:  Owner 



---




             VIN: HLS30 73891
 NOT YET REGISTERED:



---



             VIN:  HLS30 79852
 Production Date:  04 / 72 
 Color Body /Int:  Yellow / Black
 Orig.Eng.Number:  L24-101231
     Eng. Number:  #2 L24-136260 
           Owner:  Jim Frederick
City/State/Cntry:  Lutz, FL USA
 Sold By Z Store:  Universal City Nissan
        Comments:
          e-mail:  Jim240z@aol.com 
 Date Registered:  2 July 06
     Reported by:  Owner   



---


<
             VIN:  HLS30 80067 
 Production Date:  04 / 72  
 Color Body /Int:  110 Persimmon Red 
 Orig.Eng.Number:
     Eng. Number:  #2   L24-05915  
           Owner:  NISSAN Center Europe GmbH
City/State/Cntry:  BrŸhl,  Germany
 Sold By Z Store:  Brown's Fairfax Nissan 
        Comments:  Featured  in Autobild, March 2009
          e-mail:
 Date Registered:  24 July 07 
     Reported by: Thorsten Link


---



             VIN:  HLS30 80428 
 Production Date:  05 / 72  
 Color Body /Int:  112 Lime Yellow / black 
 Orig.Eng.Number:  L24 101739 
     Eng. Number:  #2  L24 103419  
           Owner:  Randy jaffe
City/State/Cntry:  Alpharetta, GA, USA 
 Sold By Z Store:  Ferman Nissan, Tampa, Fl 
        Comments: 
          e-mail:  randyjaffe@me.com
 Date Registered:  05 June 2000
     Reported by:  Owner 



---



             VIN:  HLS30 87567 
 Production Date:  06 / 72 
 Color Body /Int:  Silver / Black 
 Orig.Eng.Number:
     Eng. Number: #2 L24-186812
           Owner:  Jim Frederick 
City/State/Cntry:  Lutz, FL USA 
 Sold By Z Store:  Brown' Fairfax Nissan  
        Comments:
          e-mail:  Jim240z@aol.com
 Date Registered:  08 Sept. 06 
     Reported by:  Owner



---



             VIN:  HLS30-96203 
 Production Date:  08 / 72  
 Color Body /Int:  918 Orange  
 Orig.Eng.Number:  L24 121145  
     Eng. Number: #2  L24 123143   
           Owner:  Todd Miller  
City/State/Cntry:  Laguna Beach, CA, USA.  
 Sold By Z Store:  Coggin Nissan in Jacksonville 
        Comments:  On ebay 7 March 2005 
          e-mail:  americanrambo@cox.net 
 Date Registered: 7 March 2005, update:27 Apr 05 
     Reported by:  Owner



---



             VIN:  HLS30 96713 
 Production Date:  08 / 72  
 Color Body /Int:  112 Lime Yellow 
 Orig.Eng.Number:
     Eng. Number: #2  L28 121482(installed by Nissan)
           Owner:  Stan McPartland  
City/State/Cntry:  Minden, NV  
 Sold By Z Store:  Stevens Creek Nissan, Santa Clara, CA 11/99  
        Comments:
          e-mail:
 Date Registered:
     Reported by:   Owner



---



             VIN:
 Production Date: 
 Color Body /Int:
 Orig.Eng.Number:
     Eng. Number: 
           Owner:
City/State/Cntry:
 Sold By Z Store:
        Comments:
          e-mail:
 Date Registered:
     Reported by:  



If you own or can verify the existence of one of the Datsun 240Z's that was repurchased, remanufactured and resold by Nissan Motors... ie one of the Vintage Z Program Cars.. please let us know. E-mail "Carl Beck" beck@becksystems.com