Rob Sime's B SP 280Z
SCCA - B Sports Production Class - DATSUN 280-Z
Rob Sime IZCC #2564
E-Mail To Rob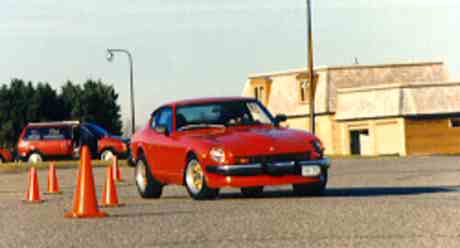 Autocrossing Before The New Paint Job!
---
This is my '78 280Z As It Looks Today.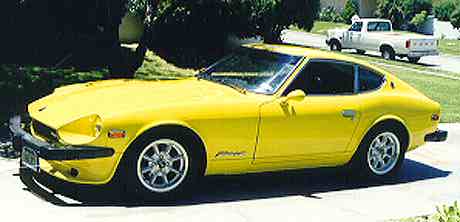 The car is a California model fuel injected L-28. The engine is stock with the exception of a TWM Big Throat throttle body, hotter coil and Magnacor plug wires. The suspension however is a Ground Control Coilover setup with adjustable camber and poly bushings thoughout. Wheels are Panasport 15 X 7's with BFG Comp TA-ZR 225.50X15's.

My passion is autocrossing. Autocrossing is a form of road racing in which cars compete against each other without being wheel to wheel. A course is laid out usually in a large parking lot with traffic cones and each car goes through the course as fast as the driver can take it. I've always thought it a bit ironic that we who autocross love it so much we spend time and money trying to spend less time doing it. All that you need to start autocrossing is a safe car, a valid drivers license and a helmet. Don't let the fact that your car isn't a sports car stop you from doing your first autocross. Most cars that are autocrossed are daily driver coupes and sedans. The SCCA or Sports Car Club of America calls autocrossing SOLO II. If everyone has done their job right the only thing you might hit while autocrossing is a cone and all that will cost you is a two second penalty added onto your elapsed time.
I have been autocrossing since the early '80's with Z cars and first generation RX-7's. I have enjoyed a good deal of success at the local level in my hometown area of Minneapolis/St.Paul Minnesota. However, Now I live in Southern California at Edwards AFB. Now 20 or so cars show up for each event in my class alone and the competition is quite stiff. I have adjusted my expectations accordingly and still expect to have alot of fun.