---
Meet Larry J. Story and His Z Car
Larry J. Story
1974 260Z
Casper, Wyoming
Central Wyoming Autocross Club
Sports Car Club of America (SCCA) - Sanctioning Body
E-Mail To Larry
Heading Out Onto The Course at the "Casper Events Center" in spring of '98 (with my 12 year old daughter along for the ride:-)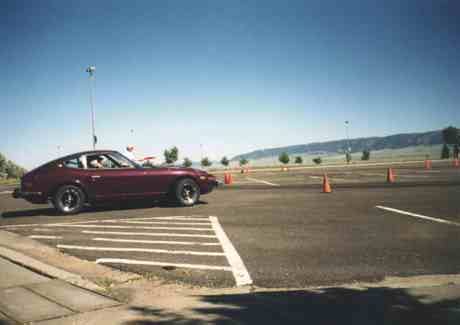 Larry's 1974 260Z- Most of the modifications are in the suspension: lowered 2 inches, with shorter springs, graphite impregnated polyurethane bushings throughout, high performance gas struts, 1" sway bar up front stock in the rear, strut tower braces, 205 60 R14 tyres on 7"rims.
The engine and drivetrain are somewhat less modified: '72 SU carbs, de-smogged, 280Z 5 speed transmission, solid differential mount.
The rest of the car is pretty stock except for the removal of the AC and interior carpets, and the addition of a 6 point harness.
---
If you're like me, and like to drive cars, you will love this sport. You don't need a highly modified car, nor experience. I started by watching, but that wasn't enough. So, out onto the track I went with my freshly restored Jaguar E-type.

Great fun, but all that spinning smoking and general slaughtering of cones showed I had a lot to learn. A couple of years later I saw my current purple cone warrior sitting on a lot needing some TLC, but basically sound. I made an offer, plunked down my cash, and haven't looked back since .

A long, decreasing radius, medium speed turn - that led right into the timing lights. Now that was fun!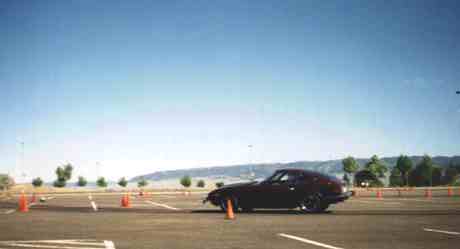 Always wanting to go faster I made modifications that made me go faster, but also changed my class, so any improvement was probably in my driving. There is nothing to lose in this type of racing. It is not to hard on the cars as speeds are generally kept well under 50 MPH, ( My wife has run the grocery getter, a Ford Tempo, with success!), and the entry fee is usually small .
An excellent book to help get started is "Secrets of Solo Racing" by Henry A. Watts. This book not only explains what solo racing is, but how to do it. Z cars make excellent solo racers with their strong engines, independent suspension and easy maintenance.
So find an event , grab the keys to the Z and go race!
---
Last Up-dated 1 Dec. 98