WANT TO TURBOCHARGE AND DRAG RACE YOUR 240Z?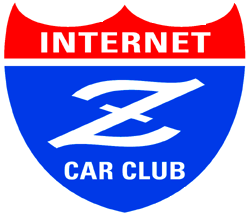 Contributed By: James Thagard
James is currently a Ph.D Candidate at FSU College of Engineering
and can be reached via E-Mail just click here: To James Thagard
Last Up-dated: 11 Aug. 99..
---
This section is intended to provide information about turbocharging the 240Z and going to the dragstrip.
Please bare with me as this section continues to be updated. I will make a complete listing of the motor and describe what modifications need to be done to achieve more hp safely. For now, I will at least leave you with some pictures of my Turbocharged 73 240Z.
It has been an 8 month project, but is almost complete. By the way, this is my daily driver! Check out my homepage if you would like, it has more pics and information. Also, more links to other turbocharged 240Z's.
The car has been painted Corvette yellow and stripped down of emblems to look very simple. I know the doors are a different color, they were painted seperate from the rest of the car. The car will be resprayed this week to have a unified color.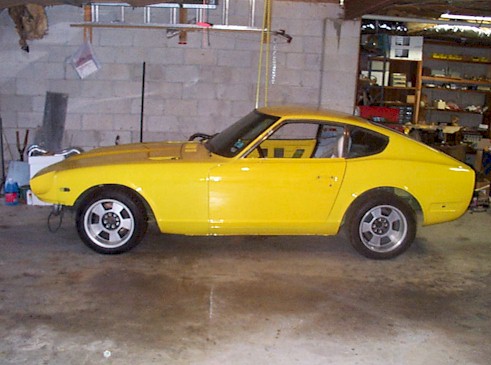 This is a picture of the engine from the drivers side of the car. All wires for the sensors are hidden within the aluminum tubing located directly below the fuel rail. You can see the external "Racegate" wastegate below the back of the intake manifold.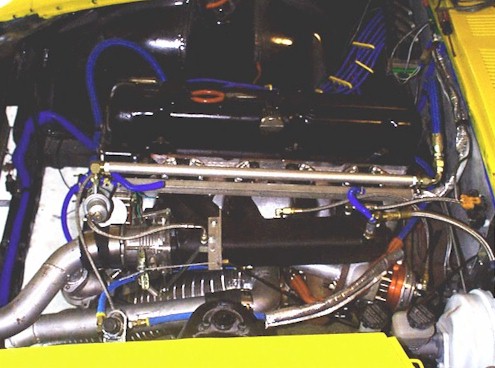 Here is a nice shot of the front mounted intercooler. This unit is from Bell Engineering and has a core dimension of 27"x8"x3". Looks like I need to add a washer or two to the mounting brackets to make that intercooler level. This unit has allowed me to run between 18-19psi boost on 93 octane with a potent t3/t4 unit. This new car runs a full T4 unit, big shaft 60-1 w/ P-trim and .58 a/r turbine housing. I will let you know how much boost I am able to run on 93 octane when the car is complete.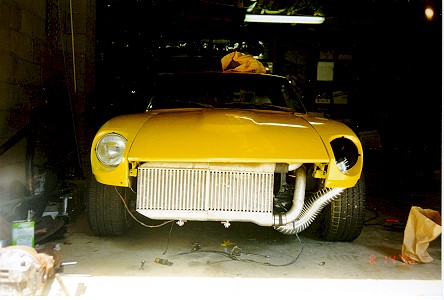 Here is a nice pic of the Autometer 2-5/8 Phantom gauges that I have installed. These gauges are easily installed into the factory gauge housing, which makes them a direct bolt up into the factory location. It really gives a clean look.
CLICK HERE FOR A "HOW TO INSTALL THESE GAUGES INTO YOUR 70-78 Z."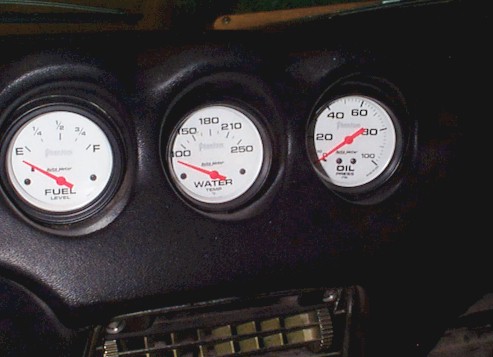 You can see the laptop, but why is it there? I am using the Electromotive Tech II. This is a stand-alone engine management system that is programmed using a laptop computer and features a direct crank fire setup. This pic shows the engine monitor screen and lets me know that I have wired up the Tech correctly and everthing is ready for starting the motor.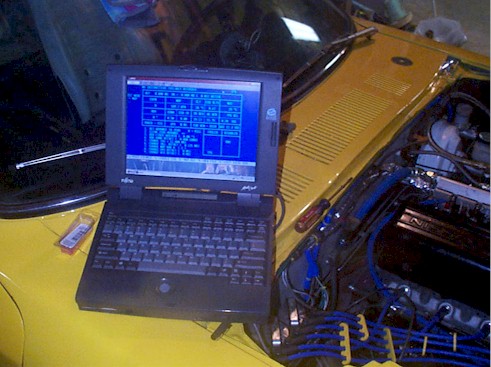 This is a picture from the passenger side of the car. Custom run 8mm Taylor plug wires run to the Tech unit.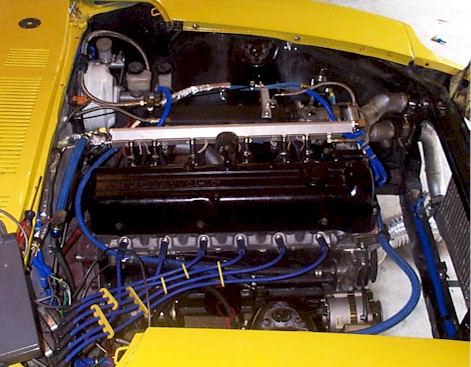 This is a good pic of the battery box located to the rear. It has not yet been permanently mounted but gives an idea of the setup. It will have to be completely enclosed and have a vent line run to the outside of the car. It is regulation and I don't want to breath in harmful battery vapors.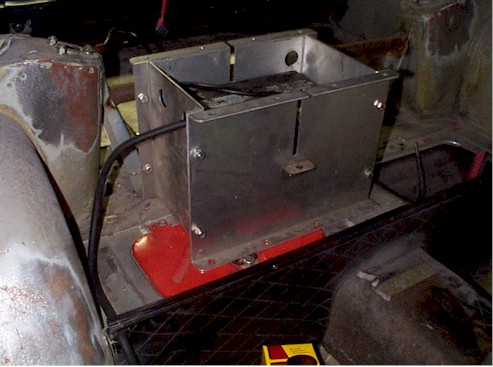 This is a decent shot of the Electromotive Tech II. You can see an assortment of wires that run to both sides of the Tech unit. There are 28 connections in all if you were to utilize every feature on the unit. Another good shot of the custom run plug wires.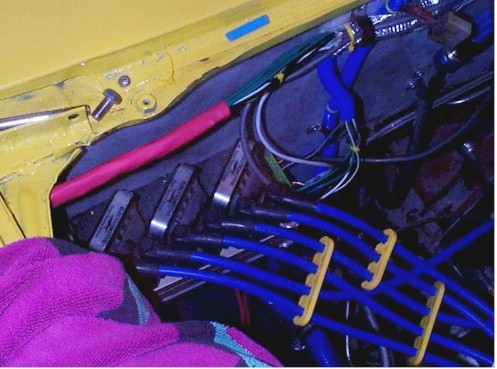 If you have any questions, please feel free to contact.