Lawrence M. Cooper (Coop)
SCCA - ITS Class - DATSUN 240-Z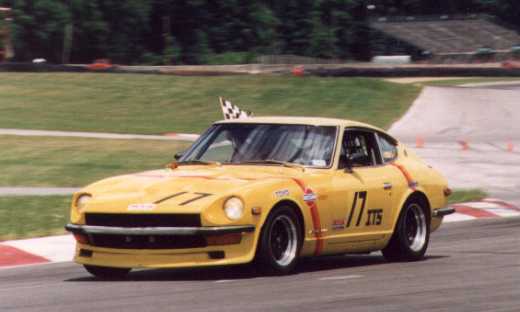 Coop wins at Mid Ohio in 1997!
---
About the Car:
Body is from 73 but has been backdated to 72 trim as per SCCA ITS rules. Engine: L24 block - .040 overbore by Rebello, E31 head by JG Engine Dynamics, ballanced/blueprinted, assembled by me. Jacobs Ignition. 72 SU carbs. Motorsport Auto headers 6 into 1 modified by JG, into 3" exhaust, mandrel bends, Borla muffler(surprisingly quiet). Drive train: Stock 4 speed into welded R180 diff. with various ratios(3.3, 3.5, 3.7, 3.9, 4.1). Suspension: At time of photo - .95" sway bar up front, .75" rear both non-adjustable. Streetable lowered springs on stock spring perches. Koni non adjustable shocks. Camber was adjusted by slotting the strut towers with a grinder, then cutting metal away from the upper rubber donut mount and the rubber then ground down. Metal was then welded back to restore strength around the donut. This allowed the strut to be tilted in negative camber until the inner(of three) mounting bolts bottomed against the strut tower. This gave just under -2 degrees camber. Not ehough for ideal contact but cheap and far better than stock. Eccentric bushings all around. Aluminum TC bushings. Etc. New suspension: Not yet tested. Full Ground Control setup - 1" sway bar up front, .65" rear both adjustable. 10" long, small diameter, stiff Eibach springs on shortened struts. Tokico adjustable shocks. Camber plates. Renewed bushings. Wheel/tires: Toyo Proxes RA1 225-50-R14 mounted on 7" Panasport and 7"American Racing type 192 rims. Brakes: At time of photo - ducted Ferodo DS11 pads in front. Non ducted Nissan Comp primary shoes, stock secondary shoes on drilled(for ventilation) backing plates. Rear brake bias adjustable from cockpit. New brakes: Hawk pads and shoes. Front and rear fully ducted. Rear brake bias adjustment retained. Safety equipment: Bolt in (not prefered) Safety Devices roll cage. Kill switch. Fire extinguisher. History: This car was a junkyard reclamation that served as my commuter vehicle for 5 years. In 1988 I decided to get back into racing so I installed the necessary safety equipment and had at it. It has always finished on or near the podium but the soft suspension and limited financing have kept it from being a consistant winner. It has at one time, qualified on the front row with the best in the country and held the track record at Mid Ohio for one weekend. This past year was highlited by a win over 24 others in the same class at Mid Ohio. I am just .5 sec off the track record at Memphis Motorsport Park. Earlier last year I ran nose to tail during several races with drivers that went on to finished 1st an 3rd at the championship event at Road Atlanta. The upgraded suspension and brakes should help close the existing gap.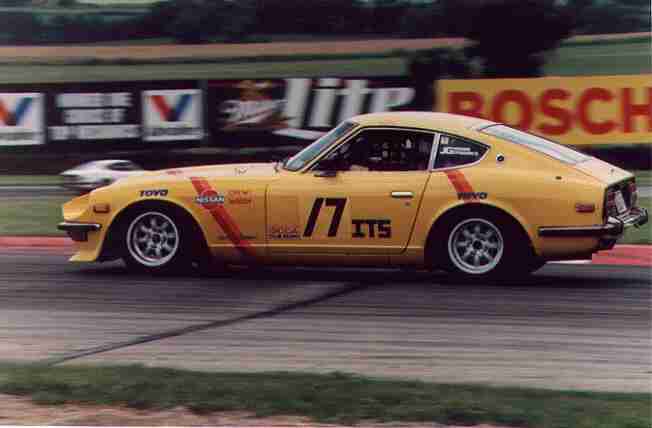 ---
The following photos are from 1998 at the 4 July Mid Ohio weekend. We had 40+ ITS cars on both Saturday and Sunday. We managed to finish 3rd both days ahead of all the BMWs, Porches, Mazdas and every other make you can think of. Two of the photos show Ed York's BMW that finished behind me on Saturday. Another photo shows both the blue 280 that finished second on Saturday and Rusty Ford (IZCC #164) white 240 that finished second on Sunday.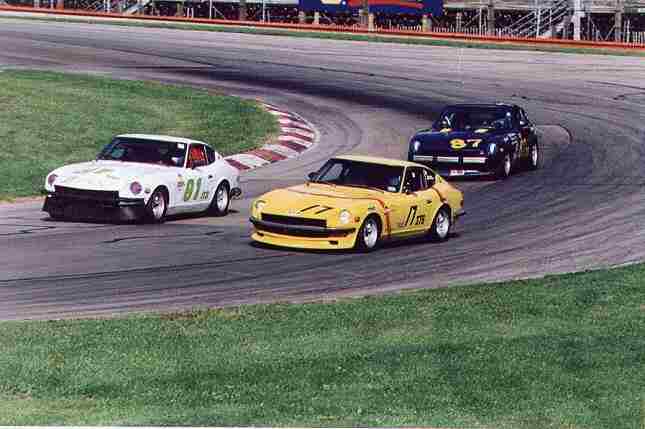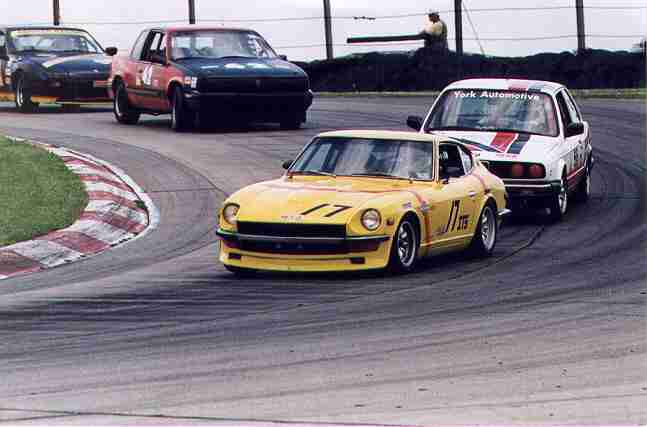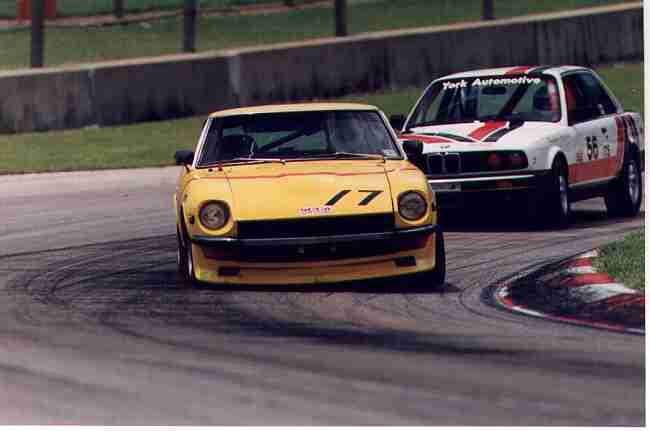 ---
What can happen if you boil the brake fluid!!!