This is Black Pearl Motorsport

Black Pearl Motorsport is a one man team, campaigning a Datsun 280Z in SCCA's Improved Touring category. I am helped in my racing efforts by my fellow competitors, friends and other competitors in other classes. I have raced this car, and a former ITB 200SX, at Sears Point, Laguna Seca, Crows Landing, Willow Springs, Buttonwillow, and even once on the Mesa Marin NASCAR style 1/2 mile banked oval. Black Pearl is now based out of Las Vegas, Nevada. I am looking forward to racing at the various tracks and configurations of the Las Vegas Motor Speedway; click on the logo and check it out. I will also try to get over to PIR and other tracks within a 4-6 hour towing radius.
.
The Datsun 280Z, pictured below, looks very much like a stock street car, as the rules require but there are a number of improvements that alter the handling, performance and safety of such a race car.
---

Feel free to send me email

with comments or suggestions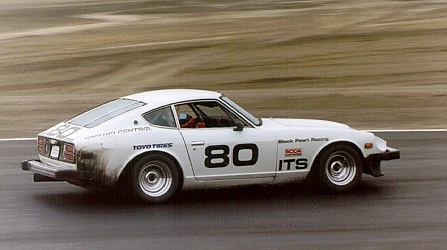 Excuse the ugly black stuff on the rear quarter panel, it is track sealer, as this picture was taken at the inaugural testing session at the new Buttonwillow Raceway Park.


Modifications to the car include:

Engine:
Pro-Built Racing Motor by JG Engine Dynamics
Datsun L28, SOHC in-line 6 cylinder, 2.8 liter, 1 mm overbore
Fully Balanced and Blueprinted
Custom 3" exhaust system
Bosch Electronic Fuel Injection
Performance clutch assembly
Suspension:
Racing Suspension by Ground Control by Apex Performance
McPherson strut coil over kits with 2-1/2" racing springs
Adjustable camber plates, front and rear
1" and 3/4" sway bars, front and rear
Tokico and Tokico Illumina adjustable shock absorbers
Performance Polyurethane bushings by G-Force, except:
Aluminum and delrin strut rod bushings, and aluminum/nylon camber
adjusting rear control arm bushings
Locked 4.37 R180 differential, race prepared by JG Engine Dynamics
Wheels/Tires:
Toyo Proxes RA-1, 225/50/14 from GT International
14x7 Alloy wheels by Revolution, from Racing Wheel Services
Stainless steel lines from Porterfield Enterprises
Performance carbon metallic brake shoes and pads by Chester Avenue Brake
Other Details:
Lettering and vinyl by ArtSpeed
Rollcage by Kirk Racing Products
Racing seat and fuel cell by Jaz
Driver restraints by AutoPro

Sponsorship and Support provided by:
The Tire Exchange of Bakersfield, Ca
JG Engine Dynamics
Click to Visit

GT International

If you have an opportunity, please give these people your business, they
support this sport and deserve our support of their business ventures.

Thanks
---
Click to Visit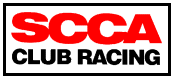 1999 The Year of the Black Pearl '84-'86 300ZX ITS (Hopefully)
1998 The Year of the Move from the Cal Club Region to the Las Vegas Region
(no job, no racing budget)
1997 CalClub Regional Championship - ITS - Tied for Second Place
1996 Cal Club Regional Championship - ITS - Third Place
Some of my favorite spots in the Net are listed below.
Speedvision Online or Speedvision On-Air Schedule
California Sports Car Club Region of the SCCA