Rick Hintz's Z-TEAM
1970 Datsun 240-Z Group 5 Rally Car (#240)
SCCA Pro Rally Class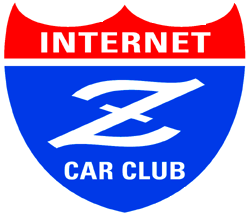 As of 25 May. 00
---

Photo courtesy of Tim Winker: http://www.winktimber.com/prorally/99wwpr/

Classic 1970 Datsun 240Z
Rick Hintz and Mark Swalley (Mark Johnson substituting) are campaigning this fairly stock classic Datsun 240Z in SCCA ClubRally, North Pacific Division, Group 5 (Open Class 2-wheel Drive). We are currently holding 2nd place in the division.
This car was previously a roadrace car, prepared for rally by the Trinders. They entered this car in a few stage rallies, then did the grueling Panama-Alaska Rally in vintage class, finishing an impressive 6th overall.
Despite being the oldest car in nearly every event it competes, this car is strong and reliable (having completed 9 events in a row this year), but is in need of visual upgrades (in spite of the great number stickers!). The future of this car is uncertain, but this is definitely the last year for this shell as-is.
---
Biography Rick Hintz
El Cajon, California
Driver, Z-Team
I did many years of part time rallying in the northwest (Washington and Oregon). Started in a '73 Dodge Colt, where I eventually won the "Rookie" class at one event and got bumped to Experienced. Crashed that car and co-drove for my brother, Dave Hintz, in an RX-3. We won Experienced class several times, and won one event (ORV I, '97) overall. He sold that car, and I bought a prepped '70 Datsun 240Z. I ran it last year ('98) with Doug Chase, and we had a blast.
This year I'm running it with Mark Swalley, and we're planning to compete in all the NorthWest Region's ClubRallies. Our highlights include the Hintz Bros. 1-2 sweep in Experienced class in Doo Wop III this year, with a top 10 overall finish (Dave won the class in his gen2 RX-7) and a 6th overall at ORV II in '98.
My car, a 1970 Datsun 240Z, is in Group 5 because it's overbored to 2454cc. Bob and Scott Trinder did the Panama to Alaska rally in this car, in addition to some stage rallying. It is a light, powerful/torquey enough rwd car, lots of fun! It is very well prepared for rallying, and quite experienced at it!
My brother and I grew up in Kenya, watching the Safari Rally, and doing motocross as a temporary substitute until we could afford rallying. That started in college, when I entered a Ray Damitio "Fun Run" event and got hooked.
I am a mechanical engineer working for the Navy, as a civilian, making sure ships are maintained well so they perform when called upon. I am married, and now living in the San Diego area, but still racing in the northwest, where the roads, organizers, volunteers, and my teammates are ideal.
Rick can be reached at:
Phone: 619-556-5639
E-mail: rallybro2@bigplanet.com
---