A Listing Of Z Car Related
Reference Books and Magazines
Contributed By:
Eric von Brockdorff, Rex Jennett, Eric Fischer and Carl Beck.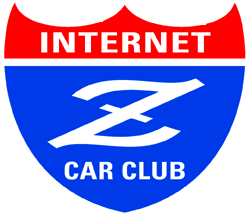 The Purpose of this page is to provide a listing of Books, Magazines and Magazine Articles that contain information about the Z Cars. As well as to provide reviews and comments about them from our IZCC Members.

Our Thanks to IZCC Members for their inputs and comments to this list:


Page Last Up-dated 13 Nov. 98

---
---
Books:
"Datsun Z From Fairlady to 280Z"
by Brian Long, Veloce Publishing, 1998, $39.95
ISBN 1 901295 02 8 [hard back, 8.5x10inch]
Review: by Carl Beck, - To date, this is without question one of the best books published about the first generation Z Cars. Very well researched and very well written. This is a Must Have for any true Z Car Fan. Track down a copy and make it yours! Filled with great writing, lots of facts and figures supported with lots of great photo's.
If you are interested in the Design History of the Fairlady Z or the Datsun 240 you will be greatly rewarded by the purchase of this book.
Brian's wife Miho, is originally from Japan and thus they spend half their year in Japan and the other half in England. This has given Brian a great opportitunity to do a very good job of research at Nissan Motors Ltd. Japan - and in turn, Brian is capable of giving the reader the full benefit of the hard work done by him and his wife.
"Z Car A Legend in its Own Time"
by Ben Millspaugh, Tab Books, 1991, $24.95
ISBN 0-8306-3536-X [hard copy]
ISBN 0-8306-4339-7 [paper back]
Review: by Carl Beck, - This is a really fabulous book. A book every Z car fan should own. Covers the Z Car from 1969 though 1990. Gives Spec.'s and production numbers. Covers the history of the Z, The Z Car National Conventions, Z Car Clubs (in the US and Abroad), Profiles well known Z Enthusiasts (but left me out:-(, Restoring your Z Car, as well as a list of articles on the Fairlady Z's.
Very comprehensive book, well written and very few technical mistakes or myths

"Z Car Enthusiasts Guide"
by Ben Millspaugh, Benton Cutter Press
ISBN 0-961-5702-0-2

"Nissan/Datsun: A History of Nissan Motor Corp. in U.S.A. 1960-1980"
by: John B. Rae, published by: McGraw-Hill Book Co. 1982

ISBN 0-07-051112-8 (hardback)
Reveiw: by Carl Beck - This is the offical history of Nissan / Datsun in the USA. Very interesting and easy to read. This book tells the story of how Datsun came to the U.S., and built itself into one of the leading importers of automobiles. Gives you an insite to the workings of the company and the leadership that Mr. K provided. - Anyone really interested in what it takes to make it happen and why we Z Car Fans loved Mr. K - should read this book.
"The Z Series Datsuns A Collector's Guide"
by Ray Hutton, Motor Racing Publications, 1985, $27.95
ISBN 0-947981-02-0
(Motor Racing Publications, 28 Devonshire Road, London W4 2HD. Detailed descriptions, invaluable reference data, restoration and maintenance information, plus a review of competition histories.)

"Datsun 240Z 1970-1973" (compilation)
by R.M. Clarke, Brooklands Books (England), 100 pages.
ISBN 1-869826-833

"How to Hotrod and Race Your Datsun 510, 610, 710, 200SX, 240, 260, and 280Z"
Revised edition by Bob Waar, Steve Smith, Autosports

ISBN 0-936834-41-2
(Covers 510, 610, 710, 200SX, 240Z, 260Z and 280Z. Contains info on engine building, tuning, road racing, handling, suspension, bolt on power, etc.)

"How to Modify Your Nissan/Datsun OHC Engine"
by Frank Honsowetz, HPBooks, 1986
ISBN 0-89586-353-7

"How To Modify Datsun 510, 610, 240Z Engines & Chassis"
by Fischer & Waar 240 pages, HP Books 1973
(Probably out of print now but worth the effort to get. Covers all aspects of modifying a Z car or sedans for autocross, IMSA and other road-type racing. Known as "The Bible" amongst old time Z nuts.)

"How to Rebuild Your Nissan/Datsun OHC Engine"
by Tom Monroe, HPBooks
ISBN 0-89586-095-3

"Datsun Z V8 Conversion Manual"
by Mike Knell, Jaguars That Run, 2/90 and 6/94 editions

"The Complete Restoration Guide"
by Bill Reagen, Z Club of Texas
- Techniques, Tips, Tricks, Tools, and Chemicals. Featuring the 1970 Datsun 240Z

"How to Restore Your Datsun Z Car"
by Wick Humble, Fisher Books, 1990, $24.95

ISBN 1-55561-026-9
A step by step guide to restoring any 1970 to 1977 240 / 260 / 280 Z. Includes body repair, suspension and brake rebuilding, engine and drive line detailing and interior restoration.

"Road & Track on Datsun Z 1970-1983"
by Brooklands Books
ISBN 0-946489-29-7

"Essential Datsun Z - 240Z to 280ZX"
by Colin Shipway.

Comments:This is a publication, listed in the latest Classic Motorbooks catalog, as I recall. I haven't even gotten around to reading it yet. It's oriented toward the British viewpoint. 1994 - eric

"Datsun Z, 240Z / 260Z / 280Z Super Profile".
by James Morris
(Published by Haynes, of Haynes repair manual fame. British slant.)

"Nissan 300ZX: The Enthusiasts Companion"
by Ray Hutton
(A complete look at what makes the 300ZX such a Super Car. Includes a thorough engine and Chassis design analysis, history and much more.)

"DATSUN 280ZX"
Produced and Published by Nissan Motor Co. Ltd. - Japan 1978

Comments:by Carl Beck.
This book was produced and distributed by Nissan/Datsun to introduce the all new, Datsun 280ZX in 1979. It contains the story of how the 280ZX was designed, a history of the Z Car, and lots of technical spec.'s and production figures. Loaded with information about the 240Z and its history. Great and not often seen pictures taken at the design center and factory.
It was sent as a "Thank-you Gift" by Nissan Motors Japan - to Datsun Customers whom had filled out a Customer Survey that Datsun conducted via mail early in 1977. This survey was intended to determin what their customers wanted too see in the Next Generation Z Car. Upon arrival of the new 1979 280ZX in late 1978, Datsun invited these same Customers in to test drive the new 280ZX. If the Customer visited the Datsun Dealer and filled out a Customer response form related to the new model Z - Nissan sent them a copy of this book.
I did all that - and I still have the original cover letters from Nissan. Over the years, somehow I lost my copy of this book. I was lucky that one of the IZCC members came across a copy, bought it and sent it to me. Today a copy in very good condition can be found once in a while for sale - usually the sell for $125.00+ depending on condition.
---
Repair Manuals:
"How to keep your Datsun-Nissan Alive: a manual of step-by-step procedures for the complete idiot"
by Messer, Colin. 544 pages. John Muir Pub., 1987, pbk. $21.95
ISBN 0-912528-65-6
(This book is not really aimed at Z-car owners. It's aimed more at the 4-cylinder L- and Z-series carbureted engines from 1968-1986. But it's a very detailed book, with lots of illustrations, and a lot of it applies to Z-cars. If you've seen the book: How To Keep Your Volkswagen Alive, then you have an idea of what this book is like.)

"S30 Electrical Supplement Datsun 240Z"

Reprinted from Nissan by Motorsport Auto

"Datsun 240/260Z Repair and Tune-up Guide 1970-1974"
by Chiltons,
ISBN 0-8019-6214-5, 0-8019-6215-3 (pbk)

"Datsun 240-280Z 1970-78 Shop Manual"
by Clymer
ISBN 0-89287-290-X

"Datsun 240Z, 260Z, & 280Z Owner's Workshop Manual"
by Haynes Publ., 1979. $16.95
ISBN 0-85696-206-6

"Datsun/Nissan Z and ZX 1970-1984 Repair and Tune-up Guide"
by Chiltons
ISBN 0-8019-7466-6

"Datsun-Nissan Z & ZX 1970-88"
by Chilton, paperback , 312 pages.$15.95
ISBN 0-8019-7851-3

"Datsun 1970-78 Zs Shop Manual."
161 pages, Motorbooks Intl., 1987, pbk. $19.95
ISBN 0-87938-255-4

"Datsun Z-Cars"
by the editors of Consumer Guide.
(Most certainly one of the first Z car books I'd give up, but surprisingly decent considering the source.)

Datsun Z-Cars Classic Car Series
by Mike McCarville, principal author 96 pages
Consumers Guide 1981

"Datsun Z Super Profile: 240Z/260Z/280Z"
James Morris 56 pages
Haynes Publishing Group (England) 1986

---
Reprints Of Magazine Articles
Brooklands Car & Driver article reprints on the roadsters and Z Car, 1966 - 1984.
by Brooklands Books
Brooklands Road & Track article reprints, 1970 - 1983.
Brooklands Datsun 240Z and 260Z, 1970 - 1977.
(Yes, there is a bit of overlap of these three books.)


---
Other Recommended Specialty / Repair Manuals: (non- Z Car Specific)

"How to adjust, tune, repair and rebuild SU and SU-Hitachi
Carburetors for Maximum Performance"
Motor Books International, ISBN 0-87938-252-X

SU, SU-Hitachi Carburetors:
Tune, Adjust, Repair, Rebuild
Gerald Rothman 47 pages
Carbooks, Inc. 1973

"Turbochargers" by Roy Macinnes
HP books (Excellent general purpose turbocharging
book. covers all topics. Touches on Z-cars. Updated Frequently.)

"Metal Fabricator's Handbook"
HP books. This book contains all you'd ever need to know about fabricating automotive metal. Especially handy for old Z-car restorers is the section on hand-fabricating body parts.
ISBN 0-89586-171-2

"Mitchell's Electronic Fuel Injection Troubleshooting Guide" Import vehicles.
ISBN 1-55561-031-5

"Auto Math Handbook" by John Lawlor.
HP Books. A good book of basic formulae used to calculate parameters concerning engines, chassis, 1/4mile performance and so on. Recommended even for advanced mechanics.
ISBN 1-55788-020-4

.Electronic Fuel Injection" - Internal Nissan training text from the National Technical Training Center.
This book is almost impossible to get but is absolutely vital for those
working on Bosch L-jetronic injection systems. This book provides very in-depth coverage of the design, operation, maintenance, and troubleshooting concepts for the L-jetronic systems as installed in 280Zs in the 1975-79 timeframe. This book was designed for use in factory mechanic training courses. Well worth the trouble to get.


---
Specialty Sources For Z Car Books:


OEM Factory Service Manuals
Factory Service Manuals For the Z Cars are published by and sold to the public for NISSAN MOTORS OF NORTH AMERICA by:


Dyment Distribution
20770 Westwood Drive
Cleveland, Ohio 44136
Phone: 1-800-247-5321


Classic Motorbooks
P.O. Box 1
Osceola WI 54020-0001
You can order by Calling:
(US) Order Hot Line: 1-800-826-6600
Overseas 1-715-294-3345
Faxes 1-715-294-4448
On The Web Classic Motorbooks (they carry a very extensive range of books on all things automotive- get their catalog)



---
Please send comments / reviews / list additions to me.
Carl Beck e-mail beck@becksystems.com