Finally Got It Figured Out - Borg Warner T5 Rear Output Shaft Seal...with Pictures!
by: Yasin ????
Date: 5 Jan. 2007


This question comes up from time to time and so I thought I would investigate. As I get ready to put my brand new Borg Warner T5 into my 280ZX Turbo, I needed to purchase a rear output seal, where the drive shaft slips into.

Nissan Canada and Nissan USA both confirmed that this part is no longer available and has been discontinued for quite some time. This is not "hear-say", I actually called them to verify in December 2007.

So...here is what I did...I placed an order with NAPA and Advance Auto Parts to see what they could find, they both had a listing for this elusive seal, so I was excited. At the same time, I went to visit my local tranny shop to see what they had in stock as a comparisson.

Now bear in mind the actual OEM Nissan part (No. 3 in the pic. below), it is a one peice seal which has the metal collar or dust shield as one piece (or integral) with the actual rubber seal.

So here are the "Usual Suspects":
1) Is the Beck Arnley Seal I ordered from Advance Auto Parts. Beck Arnley part number 052-3506, purchase price $14.43. It took a week to get. The seal is made in Japan.

2) Is the seal I got from my local TrannyShop. Part number unkown, I got it for free.

3) Is an actual OEM Nissan Seal I have had laying around. It is in *OK* shape, but the rubber on the seal has lost its supple-ness.

4) Is the seal I ordered from NAPA. It took two weeks to get (!). SKF Part Number 13958. Purchase Price is $27.50. This seal is made in Japan.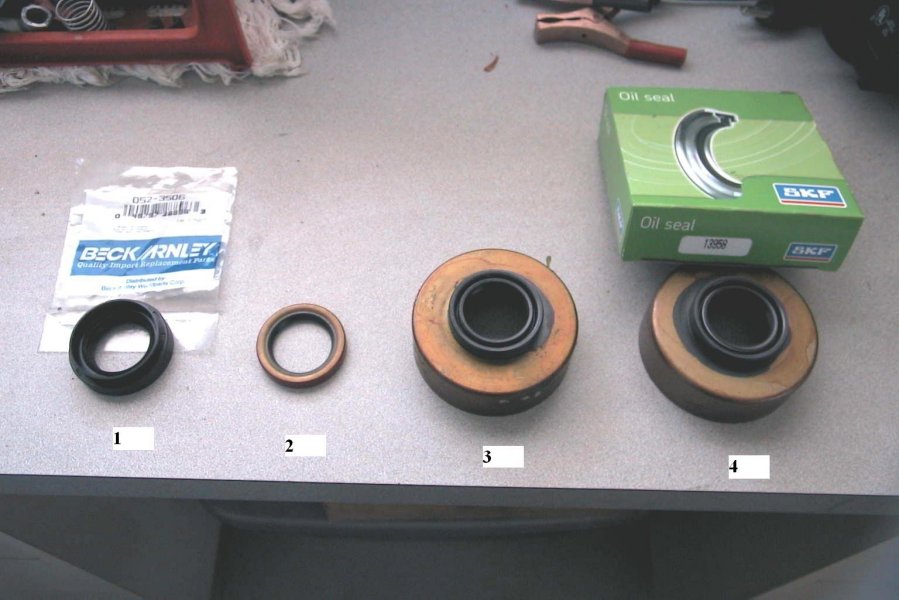 ---
So here is the Summary:


1) From Beck Arnley (Advance Auto Parts) is way too big by approx 4.7mm. This seal is actually for the NA Nissan 5speed (or B series tranny) and will NOT work with a Borg Warner T5.

2) The seal I got from my local tranny will work perfectly...but you will loose the metal collar or dust shield. The seal has to be 50.52mm O.D to fit in the BW T5 - which this one is.

3) Stock OEM Nissan as mentioned above.

4) The SKF 13958 seal from NAPA, is the one you want!!! It is actually an identical piece to the OEM Nissan seal in every way and is made in Japan by the same manufacturer for Nissan. The bonus is you get to keep the metal collar \ dust shield and although it is a little more money it is a perfect fit.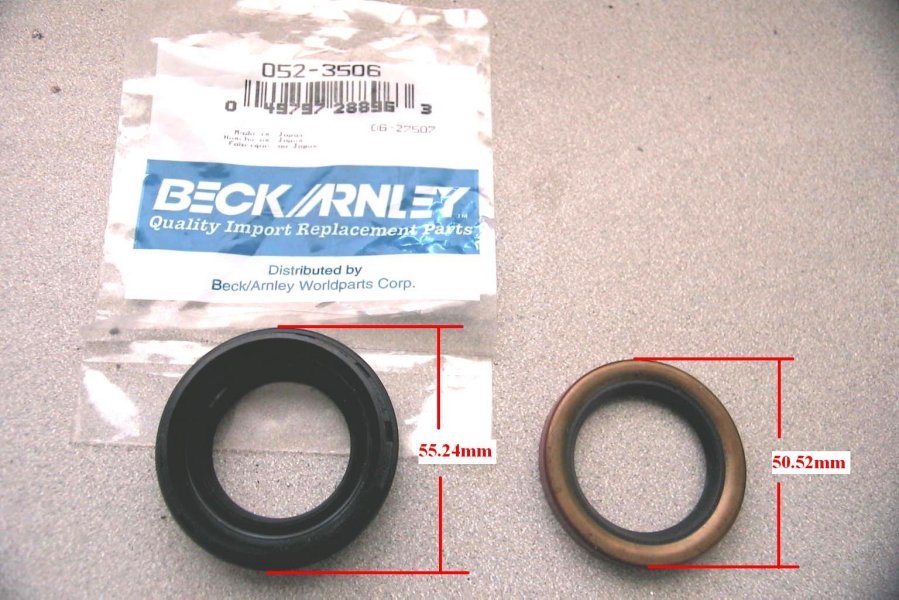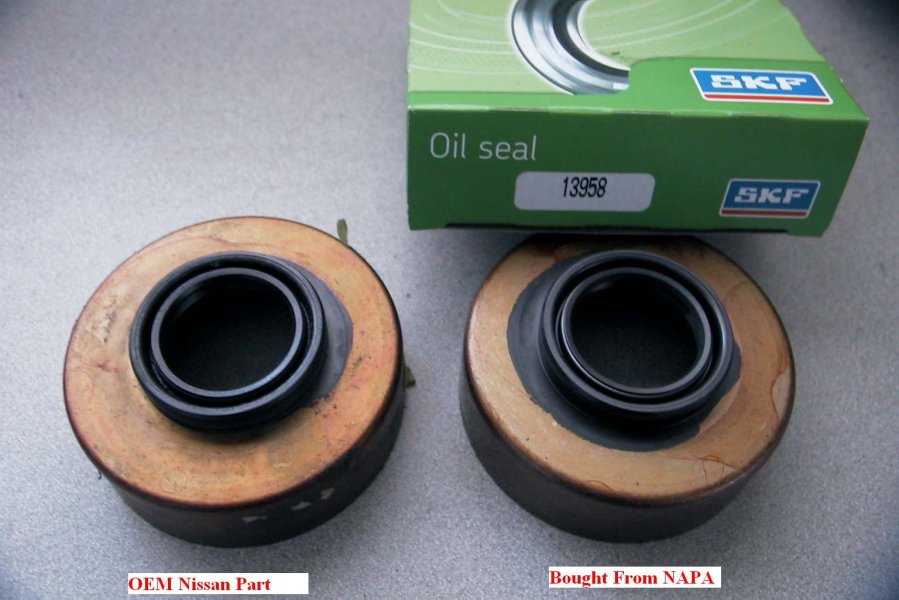 No more drippy Borg Warners! Hope that helps all and is useful data.
My best - Yasin