Z Car Home Page -
Section Descriptions:
(c) Notice of Copyright:
Internet Z Car Club
Information about the IZCC & it's Members, Local Z Clubs, and other Z Club Projects/Activities.
Z Ownership:
Buying and Maintaining Your Z Car, Z Car "How To's"
Z History:
The Design, Racing, Performance and Production History Of The Z
Classic & Collectable Z's
Preserving The History Of The Z Car For The Future
Z For Road & Track
How To Get Yourself and Your Car Ready For The Road or Track. Section Includes "How To Modify Your Z"
Z Parts Suppliers / Vendors
Major Z Car Parts Suppliers and Vendors - with IZCC Dicounts
Z Technical Library
Technical Articles, Book Lists & Reviews, Magazines, and Discussions From "The Z Car List", Reference Pictures, Event Pictures etc.

---
Expanded Site Index Below: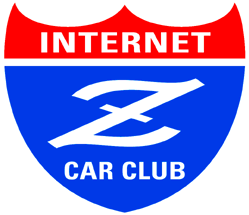 Internet Z Car Club
About the IZCC

- View Existing Registers
- Add Your Z To Registers
Guide To Local Z Car Clubs & Events
- Z Car Clubs On Line
---
Z Ownership:
- INDEX PAGE-

Buying A Z Car-tips:
- FAQ's
Caring For Your Z
- How To's - For The 84-89 Z's
---
Datsun Z History: 1965-1973
Datsun 240Z Design & Development
--- Engineering 1967-1969

Eliments Of Success - Looking A Little Deeper
--Change & Change Agents TBD

- - - Datsun Supply, Service and Sales - US 65-70

- - - Datsun 510 The Bore Cleaner

Rumors & Myths
Cars That Influenced The Design:
- Porsche 911

- Ferrari 275GTB

Racing History
Performance History
Production & Sales History
Z's Around The World

FAQ's - History Related
---
Classic & Collectable Z's


Collectable Z Car Insurance Policies
Refreshing/Restoring Your Collector Z Car


Articles (Owner Experience)
- - How To's - For The 240Z
- - "Refreshing" A 240Z

(Time & Money Is All It Takes - a look at the process of refreshing a Z)
- -Replacing 240Z Floorboards
- -Restoring A Series I BRE Spook


Preservation
- - 240-Z Hidden Rust Areas
- - Sealing out H20 & CO2
- - Caring For Your Dash

Restoration
- - 1970 Restoration FAQ's
- - Reference Materials
- - Paint & Body
- - Finding Parts
- - About Bodyshops

Design Details 69/73 Z's
- - Dash Design Changes
- - Bumper Design Changes
- - Hub Caps
- - Interior Design Changes
- - Engine Compartment Changes
- - - Fresh Air Intakes
- -Exterior & Int. Color List 240-Z /280Z
- -Exterior Color Gallery 240Z/280Z images
---
Z For Road & Track